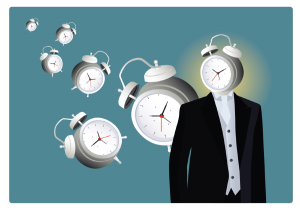 In the first part of my post, The Concept of Time in Writing, I talked about the malleability of time, and the way in which we, as writers, use it as a concept and a reference. In this second part I will focus more on the way it affects us physically, as sentient beings; sometimes it doesn't seem fluid at all. In fact, sometimes it feels remorselessly constricting.
The skills you garner to become that iconic author – be that a university/college degree, or through the university of life and the college of hard knocks – regardless of which route you take, it requires time to master. It takes time to acquire the experiences that you write about or use as believable backdrops for your narrations, and there are the countless hours spent researching to assure the readers' suspension of disbelief: time, time and more time.
Time is a commodity that has no substitute. You can be told something and take it on immediately as fact but, no matter what that something is, it takes experience (time invested) to really understand and, therefore, effectively convey it in your writing.
As authors we are well aware of the constraints of time. It takes time to get things done. I mean, even if you wake up one morning or (as in my case) through the night with the complete picture of a finished book in your head – story arc, plotlines, characters, format, book cover design and all – even a fully fleshed out book idea is going to take time to physically produce. And there is never enough time, or so it seems, as in the John Rowles song entitled, If I Only Had Time.
I attended the funeral of a friend just recently, and I was reminded of another time, when I was only twenty-three years of age. It was after leaving the army, my first marriage was at an end, most of my immediate family had moved to Australia and I was living with my grandmother. I was getting ready to go to a friend's wedding, when my grandmother said, "I remember being your age, and feeling the same way you're feeling now… like it was yesterday."
She was sixty-three years old and I can remember thinking, Wow! Can the memory of a feeling really be so vivid after so many years? As if she could read my mind, she then said, "One day, when you're attending more funerals than weddings, you'll remember me saying this, and then you'll know exactly how I feel today."
At the time I understood, intellectually anyway, what she was saying; however, forty odd years later, as her words came back to me, as clear as though it was yesterday, I understood precisely how she felt the day she dropped that pearl in my ear. Just in case she was looking in on me, I smiled and nodded to my grandmother. There is no substitute for experience.
There is much more I could say here regarding time and how it impacts writers in particular. Time has so many aspects that I could have a regular spot on IU debating and discussing it until the end of time, pun intended; however, for the moment I'll just say that I hope you all have a firm handle on your notion of time and a better grip on your time management than I have on mine.
Is time your friend or are you always fighting it? Or perhaps, if you are very fortunate, time is an amicable partner? Or, as my wife says 'If ignored there's always plenty of it.'