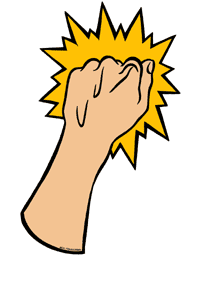 Here at Indies Unlimited, we often engage in discussions about the advantages and disadvantages of being an indie versus being published by a traditional house. Just recently I talked about one major aspect, having control over the look and feel of a book. We've also discussed getting better royalties and having the flexibility to be instantly responsive to prices, trends, and sales.
But what happens when a traditional publisher wants your book?
I've done some thinking about this. I was lucky enough to have been inside the ropes of the traditional publishing process for the first few years of my writing career. I've also had some *ahem* experience with scammers and vanity presses. I've made a lot of mistakes and learned a lot of lessons. If a traditional publisher approached me now, my response would be very different than it was the first time.
First of all, I would pore over the contract with a magnifying glass. If I had any questions about the meaning of a clause, or the validity of it or how it might affect me, I would get legal help. Next, I would concentrate on a few crucial areas, and if the details were not spelled out sufficiently (or not to my liking), I would begin negotiations to change that.
Input/influence with the title – Back in the day when I signed my first traditional contract, the publisher retained all control over the title of the book and I signed away any rights I might have had. Today, I would ask for the right of final approval.
Input/influence with the cover design – Like the title, it used to be that the publisher had total control over the cover design of the book. Likewise here, I would ask for the right of final approval. In addition, if a trad publisher wanted to pick up one of my already-published books, I would fight like crazy to keep the exact title and cover I already have.
Financial issues: royalties and pricing – We all know traditional publishers pay paltry royalties. I would certainly negotiate for a higher rate, especially knowing what I can get for myself by publishing independently. Another financial issue is the retail price of the book. I've seen a book of mine priced clear out of the stratosphere, and there was not a thing I could do about it. No more. I'd want to be included in the pricing process and would want final approval.
Timeframe – Traditional publishers are famous for being agonizingly slow. Why I can put out a book in weeks or, at the very most, months and they can't do it in less than two years is beyond me. I would certainly ask about this, and about any recourse I might have if they didn't meet their end of the deal.
Editing – Traditional publishers love to blather on about how much expertise they bring to the table, but my experience has been otherwise. My first two books were published by a NY house absolutely verbatim as I sent them in—including typos. If a traditional publisher promised editing, I would ask what that process was, how many eyes looked at it, and I would want final approval of any changes made.
Point of contact – When I signed with that NY house, I got very little communication from them. The few letters I did get (remember, this is before e-mail) never came from the same person. If I wrote back to ask questions of "my" editor, I was informed that that person was no longer there and I had a new editor. These days I would definitely ask about a single point of contact, someone I could call or e-mail whenever I had a question.
Length of contract – I no longer have my original contract, and I don't remember what the length of the agreement was. Probably 2-5 years or thereabouts. Normally there's a clause about renewing for an additional two years if all is going well. However, some publishers are now issuing contracts that stretch for seven and even ten years. When asked about it, they insist they require that much time to make back all the money they are pouring into the book. I would certainly think long and hard about tying up my book for that length of time. If by chance the relationship doesn't work out as planned, that's a lot of years to be tied to a company you really don't want to do business with.
Rights – It used to be that all rights were pretty much lumped together, and all went to the publisher. Nowadays, though, with hybrid publishing, we might assign the print rights to a publisher but retain the digital rights. Don't forget the movie rights and the audiobook rights. I'd be very selective about what I signed up for.
Promotion – I have contracts that say that all promotion is at the discretion of the publisher, but it gives no detail about what that promotion might look like. More often than not, it was putting my book up on their web page and store front and the rest was up to me. If a contract presented today were that vague, I would certainly ask for more details about what this process might look like.
Copies – Publishers tend to offer very few free copies these days. The first time I asked for more than was offered, I thought they might balk, but they agreed immediately. If you want more, ask. Believe me, they can afford to send you a few more.
Discounts – Most contracts will detail the author's discount if we want to buy directly from them. If not, ask about it; if it's there, see if you can negotiate a better deal. Remember, if you don't ask, the answer is always no.
Those are the main issues that jump out at me. Having been an indie for many years now and having total control, just looking at this list gives me the heebie-jeebies. Signing a contract now would feel like slipping into a strait jacket. But that's just me. If you ever do get approached by a traditional publisher for your book, I hope you will consider all the issues and make a very careful and informed choice. I'd also be interested to hear your own experiences and what other issues might be sticking points for you.