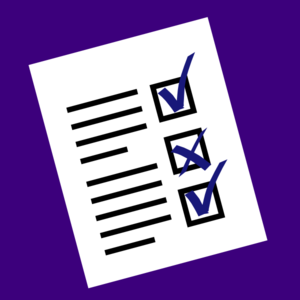 Once we're done writing a book, it's time for eBook and print edition formatting. Going back through again and again to check all the small details and make sure it's all correct can be a frustrating time sink. I've found that if I try to check on everything as I read back through, I tend to miss things, so I developed a process where I go through once to check on just the headers, another time to check just the footers, a third time to check on just the formatting of the chapter titles, then again for whatever else might be required in that particular book. Very time-consuming.
It got me thinking about a post RJ Crayton wrote a while back about doing a story bible. The story bible is more about the content of the book: the names, ages, descriptions of the characters, relevant plot points, dates, locations — anything, really, that you need to keep track of while you're writing. I realized we could do a similar thing for the double-checking process at the end, and it was really brought home to me when I was beta-reading a book for a friend and I found glaring inconsistencies throughout. One chapter header was bold, the next was not; one chapter header had two blank lines after it, the next had none. I realized a detailed checklist could help a writer go back through the book and catch (hopefully) every little formatting slip-up that sometimes slips in.
Here are a few of the things I've added to my list:
Chapter headers: Font style, size, attributes (bold, italic, etc.), number of blank lines before and after, justification or centering
Page headers: Book name on odd pages, author name on even pages, font style, size and attributes, justification or centering (print only)
Page footers: page numbers, font style, size and attributes, justification or centering (print only)
Paragraphs: block style or indented; if indented, two spaces or five
Chapter start: first paragraph style (block or indented), number of words in all caps, if any
Number of lines between time/place transitions within a chapter, or glyphs in between
Section breaks: eliminates headers on chapter start pages (print only)
Misspellings: list any words you frequently misspell so you can do a find and replace to correct them
As you can tell, I'm gearing this toward a print book, so several of these things don't apply to an eBook, but some do. No matter what kind of book you're doing, you're going to have some recurring parts, so there will still be the need to make sure they're all the same style. Consistency in formatting is essential, and the lack of it screams non-professionalism. Don't kid yourself that people won't notice; they will.
What other things can you think of that you might to add to your own list?