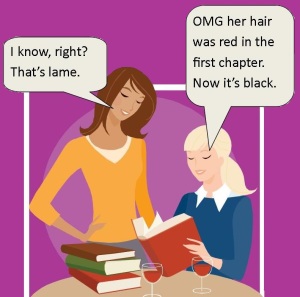 So, you're editing the last part of your novel and mention a character's sister named Annie. Or was it Annabeth? Or did you give in to that wild idea of changing the sister's name to Rasheeda? You can't remember, because you only mentioned the sister once–in chapter three. So, what do you do now? You could do a search for all three names. Or you could turn to your story bible.
What's a story bible? Like the persistent bestseller it's named after, the story bible is a guide book of sorts. It's a compilation of all the crucial facts about your book. It lays out character backgrounds, story setting details, pertinent acronyms and everything else you need to know in one easy to find place. This is very useful when editing. And it's downright essential if you're writing a sequel, either a series or serial, as Stephen Hise discussed not long ago.
So, a story bible sounds cool, right? How do you get one? Well, you have to create it yourself. What you put in it is up to you, and how detailed you make it is up to you. These are the basics to include: characters, locations, and world-specific stuff you made up.
Before we go deeper, I'll just note that it's easiest to create your story bible either upfront or as you go along, depending on how you write. If you're a plotter, filling in the character information for your story bible may help you in plotting. If you're a pantser, where you just write what comes to mind, take a few minutes at the end of your writing session (or beginning of next) to record any pertinent details that emerged during the writing session. Plotters should do the writing day update, too, as even plotters come up with new details as they write. They should drop pertinent new info in the story bible. If you're already done with your novel, it's not too late for a story bible. Just go back through your novels and create entries based on the guidelines below.
Now, back to those three basics items your story bible should include. With characters, you want to include their name, age and physical descriptions, including eye and hair color as well as build (fat, lean, pudgy, femme-fatale curvy). In physical descriptions, you can include any scars, or other identifying marks. Beyond the physical, you want background info on where they're from, family members, best friends, level of education, and even names of schools they've attended or companies they've worked for, if those details are in your book. You can go deeper and give information that's not in the book, if you want to, but that's not a requirement. You'll appreciate that deeper info later, if you're writing a series or serialized novel. However, as the goal of a story bible is to help maintain consistency, the most important things to include are things that are in the novel. [Arline Chase shared her tips for creating a character worksheet here.]
The second thing to include in your story bible is what I call location info. If there are certain places your characters visit repeatedly, you should give them an entry in your story bible so the details of the place stay the same. If your characters hang out in a coffee shop, it shouldn't suddenly have an upstairs in book four, when it's described as a single story building in book one.
Finally, you'll want to include anything you created as part of your story's world. To avoid legal entanglements (possible libel/intellectual property lawsuits), most fiction writers create some imaginary businesses or acronyms. If you write science fiction or fantasy, you're probably going to have a fair amount of things you made up to world build. Those should go in the story bible. This would include things like acronyms, business names, creatures, or special technology. For example, my characters have an LMS chip (life monitoring system) in their arms, so it's in my story bible.
A story bible is meant to be a reference guide for you (or your editor) while you're editing or writing, so it doesn't have to include every detail of your book. But, it should include information necessary for you to be consistent. It would be nice to say that the story bible should only include things you're going to mention a lot, but chances are, if you mention something a lot, you'll remember the detail. Story bibles help you with the things you're unlikely to remember. It will keep characters from having brown eyes on page 8 and hazel eyes on page 208 (or for eBooks, location 623 vs location 3244). You'll also avoid name changes similar to the ones I mentioned in the opener.
So, do you have a story bible? Would anyone like to share the biggest gaffe they almost made before checking the facts?