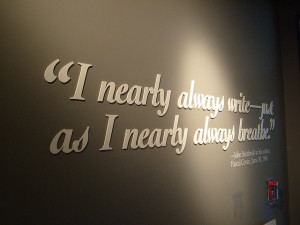 The other day a very close friend of mine asked me if I've heard of NaNoWriMo. In the writing circles, it's inescapable to avoid NaNoWriMo during this time of the year. Outside of the writing circles, it's an unknown.
I responded with a "Yep, heard of it, even did it one year. But, it's not for me."
I'm not one to tell others what to do and I can see where a solid month of writing can really benefit your project. If you have no other method to force yourself in front of your computer, then go for it. However, we have to consider … at what cost?
I'm not here to blast the concept. I'm just offering some food for thought … AND … a way to save your month before you even get into it.
When I look back at my experience, my writing time went down dramatically in the month prior to NaNoWriMo. Why? Because I had a built-in excuse that November was coming and I would write like crazy for a month.
So, what was I really doing? I was robbing from Peter to pay Paul as the old saying goes. Is it better to pound out 50,000 words in a month or hit a scheduled goal of 1,000 words per day? Only you can answer that for yourself. But, if you found yourself taking your foot off the gas pedal in October to guarantee you hit the numbers in November, you haven't done yourself any favors.
Then there's the issue of the 50,000 words. Except in a few situations, that's not enough to draft a novel length tome. Look at the numbers. You need to be, at the very least, in the 70,000 range to feel like you have a first draft. What happens next? Are you disciplined enough to attack the remainder of the story and add another 20,000 to 30,000 words in short order? Do you stop and celebrate the milestone of 50,000 words, print out your certificate and say, "OMG, is that the holidays around the corner?" You save the draft in the 2015 folder along with six other partial manuscripts. Yeah, I have one of those, too.
Let me reiterate, I'm not here to bash your hopes and dreams of this year's NaNoWriMo effort, but if you had set a goal of 1,500 words per day starting in October, you would be sitting at 90,000 by November 30th.
So, what do you do now? My suggestion … and I'm sure many of you are ready with the pitchforks and torches … is to take a day off. WHAT? Did I just say that?
Yes, take a full day off from NaNoWriMo. Tomorrow. Make it the National Day of Planning My Novel (NDPMN). I know, not as catchy, but hey, I grew up around the space program. Take a day and plan.
Plan where your story is going. Plan your result. I'm not getting into a pantser/planner argument here, but you still need to plan. Plan what's going to happen after November 30th. Set a goal for completing that manuscript that is only, at best, 71% complete at the end of NaNoWriMo. Set a word count starting December 1st. Don't sit back and relish in the fact that you hit 50,000 … look to the end result.
It's up to you to turn your NaNoWriMo in to a success story. All the cheerleading and encouragement from the support groups turn to whispers on December 7th and are non-existent by the 15th. Take this years' NaNoWriMo, grab it by the horns and show it who's boss. Don't become a statistic, become a success story. How? By planning what happens next. Finish that manuscript. Don't rely on motivation from others, rely on your heart, soul and desire to complete the project. Take your NDPMN tomorrow. Make a schedule for December … then … knock it out of the park. We'll see you in the published column next year.