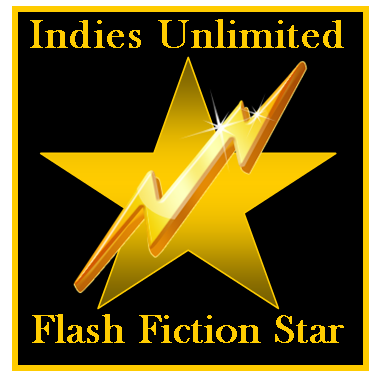 Dick Waters is the readers' choice in this week's Indies Unlimited Flash Fiction Challenge.
The winning entry is rewarded with a special feature here today and a place in our collection of winners which will be published as an e-book at year end.
Without further ado, here's the winning entry: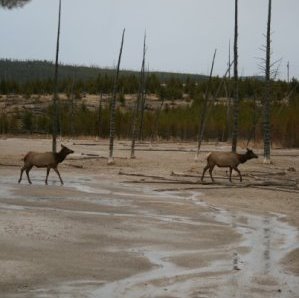 Bad Day…Good Night for Og
by Dick Waters

Og hears something that makes heart thump big.
Og hear howls of Sharpfangs.
Sharpfangs see Og.
Not good day for Og.
Og now trapped by mud.
Og now wish he hunt with others.
Og not bad warrior…Og just make mistakes.
Og lost best friends.
Og sent away.
Og wonder if he is asleep…
Og stick himself with blade, Og hurt, Og awake!
Sharpfangs coming closer. Look very hungry.
Og have only one spear.
Og close eyes and pray to hunt god.
Og hear loud drum.
Og open eyes.
Og smell something.
Og turn and see girl warrior.
Og like new view.
Girl warrior pointing bow and arrow at Og.
Og close eyes and hear arrow pass.
Og hear thump, and then whine of Sharpfang.
Og open eyes and see girl warrior smile.
Girl warrior beat drum again.
Og watch Sharpfangs turn and chase Thorn-heads.
Og now see girl warrior with large branch.
Girl warrior going to hit Og.
Og going to be killed and eaten.
Og point spear at girl warrior.
Girl warrior look angry.
Og drop spear and smile.
Girl warrior holding branch out to Og.
Og grab branch.
Og getting closer to girl warrior.
Girl warrior very nice.
Girl warrior very strong.
Og out of mud now.
Og see girl warrior with big smile.
Og look down and see missing loin cloth.
Og now hunting girl warrior.
Og heart thumping, not concerned about other spear.
Good night for Og.