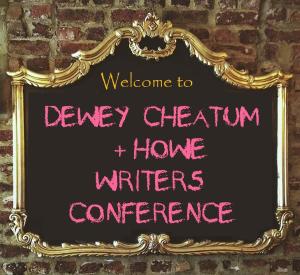 Authors, and others, have blogs and websites because they want to get the word out about whatever their passion is. What good is all that effort if no one ever sees it? Keywords, if used properly, will help get eyeballs on your work.
The key to all things keyword-related (no pun intended) is to put yourself in the shoes of the person doing the searching. What words or phrases would you search on if you were looking for the information? Think about that for a minute. Let's say you were looking for a book on how to write gumshoe detective novels. Would you search on writing? No. You would get like a bazillion trillion results, none of which would be helpful. Would you search on how to write a book? No. Again, the results would be so broad – you'd never find what you need. You would have to search on the specific phrase of how to write gumshoe detective novels in order to get anything remotely helpful. Right? Let's keep that logic in mind as we go forward.
The first thing everyone sees is the title of your article. If it doesn't grab them, they won't click on it. If it's too vague, it won't be effective in search engine results. Let's say you just went to a book conference for the first time and you want to write about it because it was the worst experience you've had since you started writing. You're angry, so you title it Slumming. Do you think people will find that when they search on book conferences? Probably not.
What was the name of the book conference? Dewey, Cheatum & Howe Writers' Conference. Let's say you're an unsuspecting author who is trying to do due diligence before shelling out cash for this conference. How would YOU search if you wanted to know if it was worth it? Wouldn't you search on things like:
Dewey, Cheatum & Howe Writers' Conference scam
Is Dewey, Cheatum & Howe Writers' Conference worth it?
Dewey, Cheatum & Howe Writers' Conference problems
Dewey, Cheatum & Howe Writers' Conference complaints
So, you should title it something like  My Complaints about the Dewey, Cheatum & Howe Writers' Conference. Another benefit of a detailed title such as this one is explained by the lovely Carolyn Steele in Keys, Tags and Penguins; having your title in the URL of the post makes search engines happy. See the image below.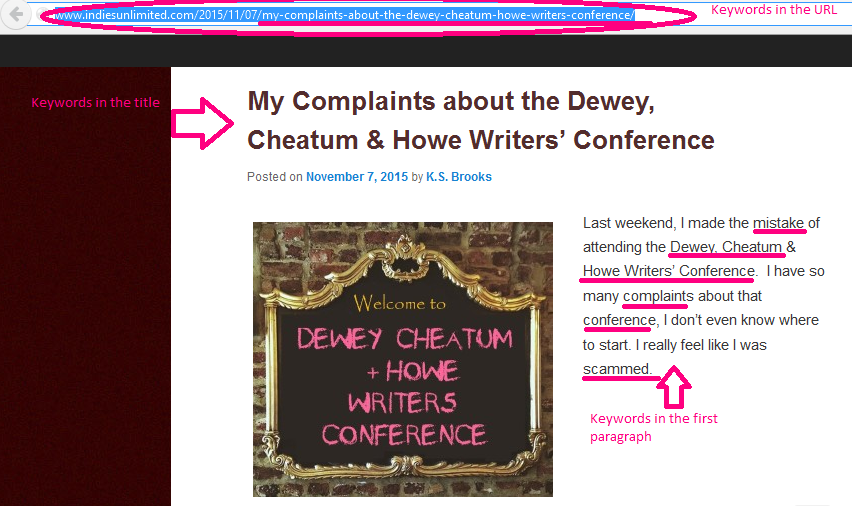 Next, you have your first paragraph. Just maybe you'd be tempted to write:
OMG, that was the worst experience of my life. Even worse than the time I paid that guy to do that thing and he took my money and never finished the thing and then I had to pay some other guy to do that thing – it was so frustrating and humiliating and expensive! This is way worse than that.
Considering that many times the search engine results will show a portion of the first paragraph beneath the link…considering that search engines will look for keywords matching the title in that first paragraph…and considering that if you run a newsletter, that first paragraph will aggregate into it… Your first paragraph should read something like:
Last weekend, I made the mistake of attending the Dewey, Cheatum & Howe Writers' Conference.  I have so many complaints about that conference, I don't even know where to start. I really feel like I was scammed.
That's to the point, and the last sentence is the kind of hook you'd like to lure readers to continue on.
How's that for starters? Got it? If need be, we can talk later about the keywords you put into the plugin, but that's not really necessary. Just exercise the logic above about using phrases that YOU would search on, and reflect keywords that were in the post. That should fix you up just fine.
If you want more basics, check out the Evil Mastermind's article entitled How to Write a Blog Post.