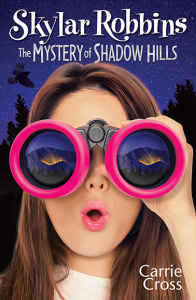 Skylar Robbins: The Mystery of Shadow Hills
by Carrie Cross
Genre: Middle Grade, mystery
60,650 words
Thirteen-year-old sleuth Skylar Robbins plans to become a private detective like her grandfather. Stuck at her bullying cousin Gwendolyn's Malibu estate for the summer, Skylar brings her detective kit, portable spy tools, and her journal for taking notes in secret code. She had no idea how dangerous the summer would prove to be.
On the first day of summer school an odd classmate named Kat passes a note in backward writing, introducing Skylar to the secret world of witchcraft. Practical Skylar didn't believe in magic  — until the spells they perform in an abandoned garden actually appear to be working.
When Kat tells her that a mysterious group is doing wicked things up in Shadow Hills at night, she can't help but investigate. The teen sleuth uses the tools in her detective kit and faces her most embarrassing fear to find the truth.
Skylar Robbins: The Mystery of Shadow Hills is available at Amazon.com, iTunes, and Amazon UK.
Carrie, how did you come up with the title for your book? Does it have any special meaning?
I lived in Malibu for eight years, and was always fascinated by the shadowy hills across Pacific Coast Highway, especially when they were shrouded in fog. I loved to imagine what mysteries might be occurring there. Malibu inspired Skylar Robbins: The Mystery of Shadow Hills.

Who was your favorite character and why?
Skylar Robbins, teen detective. She's smart, courageous and feisty, while admitting her vulnerabilities and fears to the reader.
Does your book have any underlying theme, message, or moral?
Pay attention to your instincts. Choose your friends wisely, and fend off bullies by questioning and understanding their motives. Tweens should use their brains to make rational decisions, so posers offering phony friendships do not fool them.
What would/could a reader or reviewer say about this book that shows they "get" you as an author?
One of my favorite reviews was written by a ten-year-old fan who loved Skylar's character so much that she started her own detective agency. "Discover a wondrous, forgotten garden, solve unsolvable mysteries & miss dinner because you just can't leave Skylar's side."
Give us an excerpted quote from your favorite review of this book:
"A pleasing blend of careful detective work, fanciful ritual, nature's beauty, and tense excitement makes this a cool tween adventure. This summer is one to remember."
Where can people learn more about your writing?
http://www.carrie-cross.com/