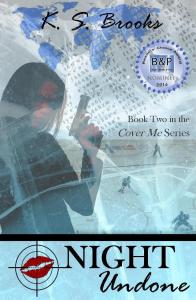 Former Special Agent Kathrin Night would much rather be a machine — unfeeling, incorruptible, infallible — but she's not. And when her Russian partner insists they work on the issues of their fragile relationship, facing the demons becomes the most challenging assignment of her life. But then the big Russian becomes the target of terrorists during the Olympic games and Agent Night must craft a one-woman plan to save him.
Night Undone, the character-driven spy drama by K. S. Brooks, is available from Amazon.com, Amazon UK, Barnes & Noble, and other online booksellers.
Don't forget, you can cast your vote for trailer of the month on December 27, 2014 at 1 p.m. Pacific time.