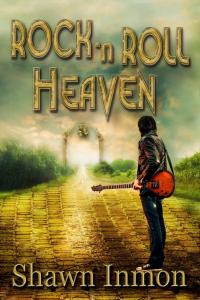 Rock 'n Roll Heaven
by Shawn Inmon
Genre: Fantasy
35,000 words
Jimmy 'Guitar' Velvet isn't even a has-been; he's a never-was. After a short trip to the bottom of a river, Jimmy undertakes the adventure of a lifetime. The celestial bureaucracy ships him to Rock 'n Roll Heaven, where he meets the true icons of rock 'n roll  — and learns that even 'heaven' is relative. But, what impact can a small-timer like Jimmy make on the biggest stage in the universe? If you remember the music of Buddy Holly, Elvis Presley, Jim Morrison, Roy Orbison and Janis Joplin, you will find much that resonates in Rock 'n Roll Heaven.
Rock 'n Roll Heaven is available at Amazon.com, Barnes & Noble, Amazon UK, and other online retailers.
Shawn, how did you come up with the title for your book? Does it have any special meaning?
This was the rare occasion when I knew the title before I even started writing the book. The whole concept of there being a "Rock 'n Roll Heaven" is what fired my imagination.
Who was your favorite character and why?
Jimmy "Guitar" Velvet. He is so flawed, but still manages to be honest with himself. Like many people, he doesn't handle any level of success well and manages to turn good things into bad. Still, he's not incapable of growth, and he has a nice arc in this story.
Does your book have any underlying theme, message, or moral?
This is a story about second chances, priorities, and regret. Once you're on the other side of death, what can you do to make amends for the mistakes you made in life?
What would/could a reader or reviewer say about this book that shows they "get" you as an author?
That the icons of rock 'n roll feel like real people. I wanted Buddy Holly, Elvis Presley, etc., to leap off the stage and feel like they were really talking and interacting with Jimmy Velvet.
Give us an excerpted quote from your favorite review of this book:
"Part fantasy, part rock and roll adventure, Rock 'n Roll Heaven also has some important lessons about life and priorities."
Where can people learn more about your writing?
http://shawninmon.com