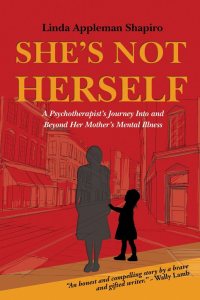 She's Not Herself
by Linda Appleman Shapiro
Genres: memoir
Available at Amazon.com and Amazon UK.
Young Linda grew up with a mother who was "not herself." Years later, as a psychotherapist, Linda Shapiro looks back on her childhood in an effort to understand her mother's mental illness and make sense of the effects of multi-generational traumas. The result is a memoir of love, loss, loyalty, and healing.
Book Excerpt:
As a twelve-year-old, I understood little about Mother's illness and didn't have words to describe her state of mind or condition. All I knew was that I had no control over it and no choice—I had to deal with it. The weight of its burden was heavier than ever.

I was also at war with myself. The part that loved my mother was in conflict with the part that was repulsed by her inability to defend herself from her demons. I looked in the mirror and told the person I saw there that whatever happened in life, I would never lose my self-control. I would never surrender and become a victim.

From that time on, I trusted in my intellect. I refused to acknowledge sadness, anxiety, or loneliness, and never spoke about anything personal. I walked with my head high and was determined never to appear vulnerable.
What others are saying:
"She's Not Herself is a beautiful coming-of-age story that has the immediacy of a child's perspective and the wisdom of an adult's." – Amy Merrick, Amazon Reader Review