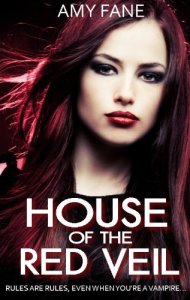 Antonella Ambrosetti may be a vampire, but she refuses to be a monster. The members of her exclusive house of vampires, the House of the Red Veil, all live by her strict rules. But, when tragedy strikes and the prime suspect is her former companion, Dante, all her rules go out the window in her quest to keep her house safe.
Along the way, she struggles with her growing attraction to Seth, the warlock that makes her cold, dead heart race, and the desire of Nicky Marchesi, son of a prominent mob boss, to become a vampire against his father's wishes.
House of the Red Veil, the urban vampire fantasy by Amy Fane, is available from Amazon.com.

Don't forget, you can cast your vote for trailer of the month on January 31, 2015 at 1 p.m. Pacific time.