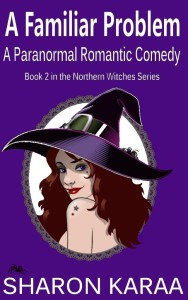 A Familiar Problem
by Sharon Karaa
Genres: paranormal romantic comedy
Available from Amazon.com and Amazon UK
Banished from Hell for causing chaos, Natalia Stokes takes refuge with a band of witches in the guise of a familiar.  The longer she stays on Earth, however, the more human she becomes; so human, in fact, that she's offered a chance to redeem her soul.  Will she take it?
.
Book Excerpt:
"You look ….lovely!" he said, falsely, staring at my floor length grey skirt and shirt buttoned up to my neck.  I'd pulled my hair into a tight knot at the back of my head and scrubbed my face clean of make-up.

"I thought I'd better dress appropriately," I said, lowering my eyes and letting my cheeks blush at his compliment.

"Well, that's really …considerate of you," he said, throwing the broken cup into the bin and draping the towel over the sink.

"Shall we go?" he asked, offering me his hand.

"Ahem!" I looked him up and down, my hands clasped in front of me.

"What's wrong?" he asked, moving toward me.

"I don't think you're appropriately dressed, do you?" I said, looking at him primly.

He looked down at his loin cloth.  "This is what all of the angels wear," he said, confused.  "It's not inappropriate!"
What others are saying:
"The new characters have all the depth and personality that the original cast of characters possess" – L. Morin, Amazon Reviewer