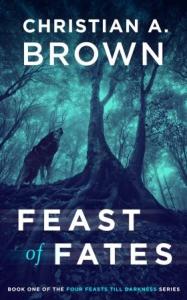 Feast of Fates
by Christian A. Brown
4.7 star average on 40 reviews
541 pages
Morigan lives a quiet life as the handmaiden to a fatherly old sorcerer named Thackery. But when she crosses paths with Caenith, a not wholly mortal man, her world changes forever. Their meeting sparks long buried magical powers deep within Morigan. As she attempts to understand her newfound abilities, unbidden visions begin to plague her—visions that show a devastating madness descending on one of the Immortal Kings who rules the land.
With Morigan growing more powerful each day, the leaders of the realm soon realize that this young woman could hold the key to their destruction. Suddenly, Morigan finds herself beset by enemies, and she must master her mysterious gifts if she is to survive.
The epic fantasy novel Feast of Fates is available for Kindle and in print through Amazon.com and Amazon UK.
Excerpt of Feast of Fates by Christian A. Brown: Continue reading "Saturday Book Showcase: Feast of Fates"