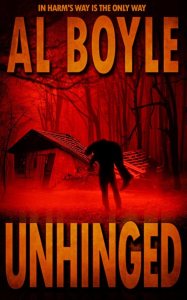 Unhinged
by Al Boyle
5.0 star average from 6 reviews
302 pages
Amy Dylan is the lone eyewitness to the brutal kidnapping of local teen Jared Chambers. The details she provides are too vague for the police to take action, but she's not surprised.
She was twenty miles away when it happened.
Amy Dylan is a psychic with a loyal fan base on WXYZ-FM. She knows the first twenty-four hours in a missing person's case are critical. The police have no leads, no suspects, and no persons of interest.
Amy approaches the Chambers family and is greeted with skepticism and hostility. Undeterred, she investigates on her own and produces the first lead, drawing the interest of the police department and dividing the Chambers family. She also draws the ire of Jared's captor, who challenges her on the air, providing chilling proof that Jared is at his mercy.
For Jared to stand a chance of survival, Amy must put herself in harm's way.
This book is available from Amazon.com and Amazon UK.
Excerpt from Unhinged by Al Boyle