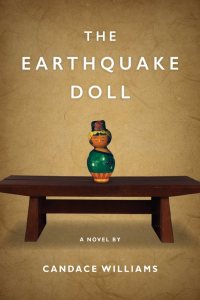 The Earthquake Doll
by Candace Williams
Genre: Historical Fiction
Available at Amazon.com and Amazon UK.
Miyoko Takahashi struggles between the dictates of an ancient family covenant and the desire of her secret heart during Japan's greatest cultural upheaval. Ordered to fulfill her family's duty under the covenant, if Miyoko disobeys, she will dishonor the memory of her father and bring hardship upon her family.
Book Excerpt:
October 1952


Miyoko peered through the bus's foggy window and followed a raindrop's frantic zigzag journey down the pane. Tears stung her eyes. It was strange to think of Middle Sister as a grown woman, a wife and mother. It was strange to think of her childhood friend as dead, never to be seen again. She turned away from the window.

"Mother, why were we not invited to Toshiko's wedding last year?"

Mother sat beside her, glasses perched on her nose as she sewed. "I suppose Taro-sama's family was very busy then."

"Too busy to invite us to his daughter's wedding?"

Mother hesitated before answering. "It was harvest time. It is a hardship to have out-of-town family coming."

"It is harvest time now, too."

"It is our duty to honor the dead, Miyoko-chan."

Mother's voice had the tone of finality. It was always like this when she tried to ask anything about Father's side of the family.
What others are saying:
"I became so entrenched in this book that I could not stop reading it."
– Rhonda Taylor, Amazon Reviewer