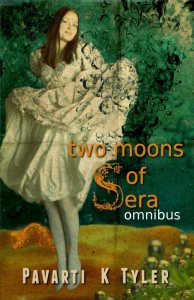 In a world where water and earth teem with life, Serafay is an anomaly. The result of genetic experiments on her mother's water-borne line Serafay will have to face the very people responsible to discover who she really is. But is she the only one?
Two Moons of Sera, the fantasy novel by Pavarti K. Tyler, is available on Amazon.com and Amazon UK.

Don't forget, you can cast your vote for trailer of the month on January 31, 2015 at 1 p.m. Pacific time.