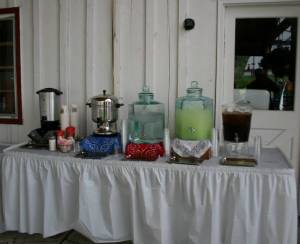 Blaine slipped out the back of the wedding hall. He couldn't believe Tiffany was marrying that no-good cowboy. Roy McCoy had slithered his way into Tiffany's life while Blaine was in Iraq. It wasn't right. He had emailed her every day and Skyped whenever he could. Why hadn't that been enough? He wasn't really gone that long. She should have waited for him.
He gazed upon the unprotected refreshments. His grip tightened around the bottle of ipecac. "Speak now or forever hold your peace," wafted out from the hall. Blaine took a deep breath…
Welcome to the Indies Unlimited Flash Fiction Challenge. In 250 words or less, write a story incorporating the elements in the picture and/or the written prompt above. Do not include the prompt in your entry. The 250 word limit will be strictly enforced.
Please keep language and subject matter to a PG-13 level.
Use the comment section below to submit your entry. Entries will be accepted until Tuesday at 5:00 PM Pacific Time. No political or religious entries, please.
On Wednesday afternoon, we will open voting to the public with an online poll for the best writing entry accompanying the photo. Voting will be open until 5:00 PM Thursday.
On Friday afternoon, the winner will be recognized as we post the winning entry along with the picture as a feature. Then, at year end, the winners will be featured in an anthology like this one. Best of luck to you all in your writing!
Entries only in the comment section. Other comments will be deleted. See HERE for additional information and terms. Please note the rule changes for 2015.