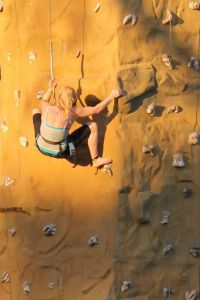 Well good job, Wendy, I said to myself as I bent another fingernail backwards, ripping it to the quick. What the heck was I thinking, telling Jason that I'd love to go climbing? Sure, I'd been dying for him to ask me out, but I never should have alluded to being athletic. At all. Ever.
I glanced at Jason, just a few feet to my right. He smiled. I smiled back. He's so cute, and smart, and funny. And every other girl in class has the hots for him, too. I know lying was wrong, but I really wanted just one chance for him to get to know me.
Through all that thinking, I had managed to get myself in a bit of a predicament. My feet were now way too far apart, and the left one was slipping…
Welcome to the Indies Unlimited Flash Fiction Challenge. In 250 words or less, write a story incorporating the elements in the picture and/or the written prompt above. Do not include the prompt in your entry. The 250 word limit will be strictly enforced.
Please keep language and subject matter to a PG-13 level.
Use the comment section below to submit your entry. Entries will be accepted until Tuesday at 5:00 PM Pacific Time. No political or religious entries, please.
On Wednesday afternoon, we will open voting to the public with an online poll for the best writing entry accompanying the photo. Voting will be open until 5:00 PM Thursday.
On Friday afternoon, the winner will be recognized as we post the winning entry along with the picture as a feature. Then, at year end, the winners will be featured in an anthology like this one. Best of luck to you all in your writing!
Entries only in the comment section. Other comments will be deleted. See HERE for additional information and terms. Please note the rule changes for 2015.