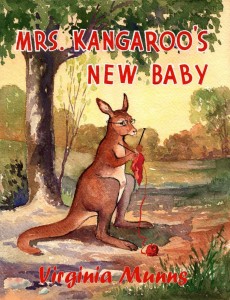 In honor of the International Children's Book Day, I thought I would talk about publishing children's books via CreateSpace. My particular experience started after my parents passed away and I was going through their files. My father was an artist and my mother was a teacher, actually almost direct opposites in temperament, so I was surprised and excited to find the layout of a children's book written by my mother and illustrated by my father. It was very obvious the little project had never seen a publisher, so I determined to publish it for them.
Because the story was short and simple, appealing to younger children, I chose an 8"x10" paperback format for it — easier for small hands to hold, and the layout my parents had designed fit perfectly. Since the original work was done back in the 1950s, my parents had done a literal cut and paste — typing up the text on a typewriter, cutting the lines out with scissors and pasting or taping them onto the board mats where my dad had drawn the illustrations. Lucky for me, the glue and tape held on after all these years, so it was easy for me to see exactly how they envisioned the set-up of the book.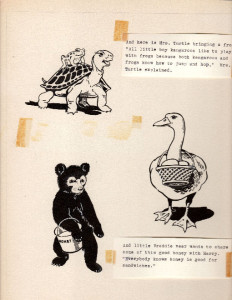 My father had rendered the full-color cover for the book (above), and had hand-lettered the title. It was a simple matter for me to scan the painting into a jpg and add my mother's name in a coordinating color and font style. I uploaded it to CreateSpace in the resolution required (at least 300 dpi) and created a back cover out of another painting my father did. If you're not familiar, CreateSpace has a couple dozen different templates for cover designs, or you can upload your own images for the front and back covers like I did.
I scanned in all the old interior drawings and cleaned them up. It wasn't hard to get rid of the small stains and smudges they had gathered over time and make them look like brand new. I used Paint Shop Pro, but there are several free image programs (like Gimp) that will work just as well. It was an easy matter to add the text without the laborious cutting and pasting, and I thought about how amazed my parents would be to see this way of making their old project new for the digital age.
I did end up putting each drawing and its related text on its own page rather than the three-to-a-page layout in the image above. I wanted each drawing to fill the page, and with a book this short, there was no reason to crowd the pages. The finished book was 24 pages long, just right for small minds at bedtime.
Because some of the story's drawings were in color, I chose the color option for the interior, which unfortunately pushed the price up to $9.99, but I felt it was worth it. Interestingly enough, I was talking to a friend about this, and he suggested I remove the color and do the book as a coloring book! I thought that was a terrific idea, and I plan to do that in the near future, not replacing this book but adding a new version of it. Not only will it cut the cost of the book, but it will make it more "interactive," in an old-fashioned and fun way. Because I also have hundreds of pencil drawings that my father did of various animals, both domestic and wild, I plan to do another themed coloring book without any story at all.
The great thing about children's books is that they can be simple, fun and require much less gnashing of teeth than a 100,000-word novel. I would venture to say that many parents and/or grandparents might have ideas for stories like this, and it's not that difficult to do. If you don't know an illustrator or can't find one within your budget, there are a lot of royalty-free images available on the web. Let your imagination run wild. You never know what you can create until you try. And your children (or grandchildren) will thank you.