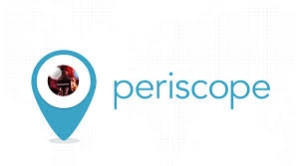 About a month ago, Meerkat made a splash at the South By Southwest Interactive Conference in Austin, TX. What's Meerkat, and what does this have to do with authors? Well, it's a platform to stream live video and audio from your smartphone. The company threw the app together in a couple of months and launched the next big deal. Or did they? You see, this app broadcasts via Twitter. Guess what? On March 26th, Twitter announced the launch of Periscope, a live stream video and audio app.
What can we authors do with an app like this?
Why not set your phone up to stream your next talk at the library, or your next book signing? Maybe stream parts of your next book release party, a book festival you're attending, or neat book-related places you visit. Is the Grand Canyon in your book? Make sure to stream live next time you go there. It's a great way to extend your reach beyond your geographic region. Your videos are saved and available for 24 hours through the app. Of course, you'll want to save the video in your camera roll if you want to keep it around longer. (You may want to upload it to YouTube later.)
Yes, you can post videos via Instagram, however, that's not live, and Instagram will only post fifteen seconds-worth. Using Meerkat or Periscope turns your event into a "televised event" with very little effort.
The great thing about Periscope is that you don't have to start developing a following on a different platform, like you do with Meerkat. Your Twitter followers automatically show up in the Periscope app. When you launch a live stream, the app instantly notifies your followers to allow them to join in and comment or "Like."
Participants can "like" a Periscope broadcast in real time, and you're not limited to just one "like." Just tap the screen and you send a small heart floating up from the screen. If you find that you like a particular portion of the broadcast, you can "like" again. For those who really get into it, you can review the "likes" you received to gauge the most interesting parts of your broadcast.
If you want to broadcast to a select few, you can choose who you want to invite to your live event. If you want to share with anyone, you can tap the Twitter icon and share it with all your Twitter followers.
At the time I wrote this post, both the Meerkat and Periscope apps are only supported on Apple and you can get the Periscope app here. I'm sure the Android version will be out soon.
Let us know if you've used this new method to share your books. We would love to hear about your experience and maybe even join in on your live streaming event!