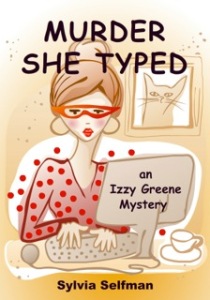 Murder She Typed
by Sylvia Selfman
Genre: Cozy Mystery
203 pages
4.2 stars on 137 reviews
Izzy Greene, a widow of a certain age, joins a writing group in an attempt to actually finish one of her stories. She gets more than she bargained for, however, when her nemesis, sexy blonde bombshell Sondra Sockerman, disappears under suspicious circumstances. Izzy soon realizes that she has a natural detecting ability as she and her friend, Flo, set out to find the killer…who is now after them.
Murder She Typed is available at Amazon.com and Amazon UK.
Exclusive excerpt from Murder She Typed by Sylvia Selfman

"Izzy. Izzy Greene." I felt a jolt of panic as Officer Martinelli wrote the name on a sheet of paper. I now had a record. "It's the first time I've ever been in a police station," I said in a shaky voice.
"And maybe not your last. But there's nothing to be nervous about." He paused and looked at me in a way that made me doubt the truth of his comment. "Unless, of course, you're guilty of something."
He walked over to the Mr. Coffee in the corner. "Coffee?" he asked. I knew the routine. Soften me up, then go for the jugular. I shook my head.
"Are you guilty of something?" he asked.
"Of course not. What could I possibly be guilty of?"
"Go ahead then," he said. He carried his cup to his desk, then settled into his chair. "Tell me what's on your mind."
How about that I shouldn't have come.
I opened my mouth and before I realized what was happening, the words came out in a torrent, like some full-blown attack of verbal diarrhea. I described how I'd gone hiking, followed Sondra up the trail, saw the guy dressed all in black, heard the awful scream. Then like a train barreling down the track and unable to stop, I described in minutest detail my intense fear of high places, my possible allergy to tumbleweed and finally my need to lose weight. When I finished I sat back and took a deep breath.
The entire time Martinelli never took his eyes off me. He sat silent and expressionless behind his desk. Every now and then he sipped coffee from his oversized black cup with the words, Hot 'n Sexy, in red.
"Do you think I'm making too much of what happened?" I asked.
"What happened?"
"I'm not sure," I answered. "But at the time I was sure something bad happened up there."
"Do you have any idea who the guy was? Ever seen him before?"
"No," I said shaking my head. "He had his back to me. I didn't get to see his face. Thankfully."
"And you're figuring he might have done something to this Sondra person." I knew what he was implying –– that I was an hysterical woman with a vivid imagination who was taking up his valuable time.
"I know that he scared me. I had the feeling he was going to attack me."
"This woman, Sondra. What'd you say her last name was?"
The sound of the clock's ticking grew louder, filling the room like The Tell-Tale Heart. "Sockerman," I said quietly. "Sondra Sockerman."
"Seems I heard that name before," he mused. The ticking grew louder.
"Okay, you're right! She's the same woman Flo and I stalked –– I mean –– staked out the night you saw us in the car."
"And now you're stalking her again."
"Of course I wasn't stalking her! I just happened to be on her tail, I mean, on the trail at the same time."
"Izzy, I'd like to tell you the same thing I told my mother just the other day."
His mother? First I'm a psycho stalker and now I'm his mother?
"Izzy, I think you have too much time on your hands. I advise you to take up a hobby. Like knitting or line dancing. Maybe both. Get my drift?"
Oh, I got his drift all right. And I was still smarting from his comparing me to his mother. "Oh wait, I forgot," I said, rummaging around in my bag. "I found her ankle chain on the trail. Now where'd I put it?"
I was about to dump everything out on his desk but with all the tissues and crumbs and heaven only knew what else was in there, I decided against it. "I guess I left it at home," I shrugged. "I'm sure it was Sondra's since she was wearing one just like it when I saw her on the trail. I could drop it by here tomorrow."
I watched as Martinelli pushed his chair back and stood up. Without saying anything, he walked to the door and opened it. A not so subtle signal that our little tete a tete had come to an end.