Since January 1, 2007, it is the law in Canada that all publications, with few exceptions, must be registered with Library and Archives Canada. Shame on me. I'm sorry. I didn't know. And I'll bet many other Canadian authors don't know either. So let's fix this so we're all obeying the law and won't have the Archive police chasing us.
To be fair to myself, I did know my paper books needed to be sent to the Archives and had done that. What I didn't understand was that they wanted all versions – not only the paper ones but the digital ones as well. I thought one print copy of each book was enough. It wasn't.
They want a copy of every publication that has a separate ISBN number. ISBN numbers are free in Canada and can be obtained at ISBN Canada. In order to do that, you first need to create an account per the guidelines on the site:
To request ISBNs, you must first create an account in the ISBN Canada online system. As a Canadian publisher or self-publisher, you are able to manage your own ISBN account. This will allow you to view your logbook online, update and edit data, as well as request new ISBN blocks.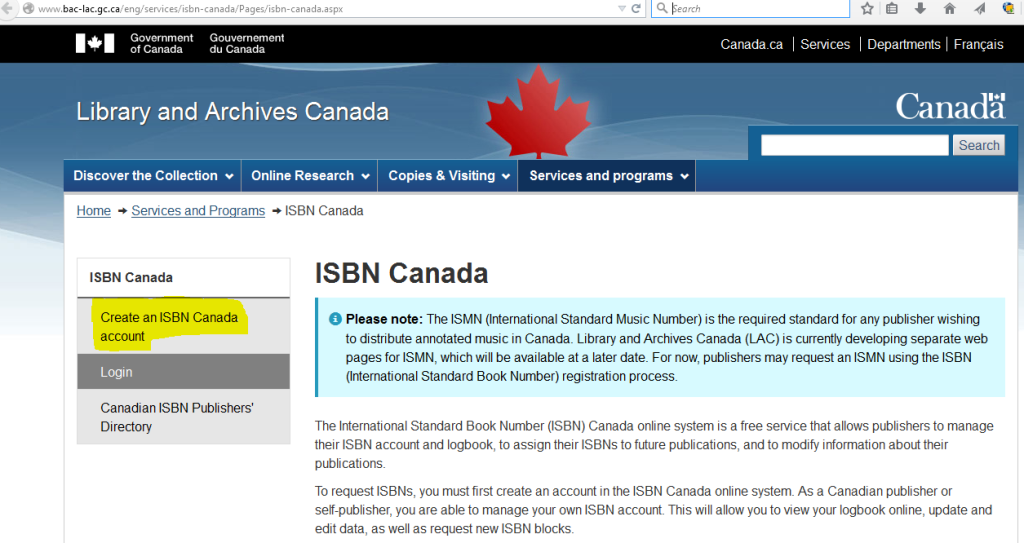 Then, once your book is published you need to register it with the Library and Archives Canada. Why? Their website explains:
Legal Deposit: Preserving and Providing Access to Canada's Published Heritage
History of Legal Deposit
Legal deposit has been an effective means of collecting and preserving the country's published heritage for over 450 years. The concept was established in 1537 with the Ordonnance de Montpellier, enacted by King Francis I to ensure the collection and preservation of documents published in France.
Legal deposit in Canada has been in effect since the National Library of Canada was created in 1953. Initially applied primarily to books, legal deposit was later expanded to include serial publications (1965), sound recordings (1969), multimedia kits (1978), microforms (1988), video recordings (1993), CD-ROMs (1995), and cartographic materials as well as online or digital publications (2007).
What happens once a book is registered with legal deposit?
Through legal deposit, all materials produced by Canadian publishers become part of Library and Archive Canada (LAC)'s collection and are available for public consultation and use.
Once a publication is received, a description acknowledging the contribution of the publisher is entered into LAC's online catalogue, which can be accessed by all Canadians in the comfort of their home.
So, to submit a book, the first thing you need to do is to create an account. This takes you to a screen asking you to accept their terms.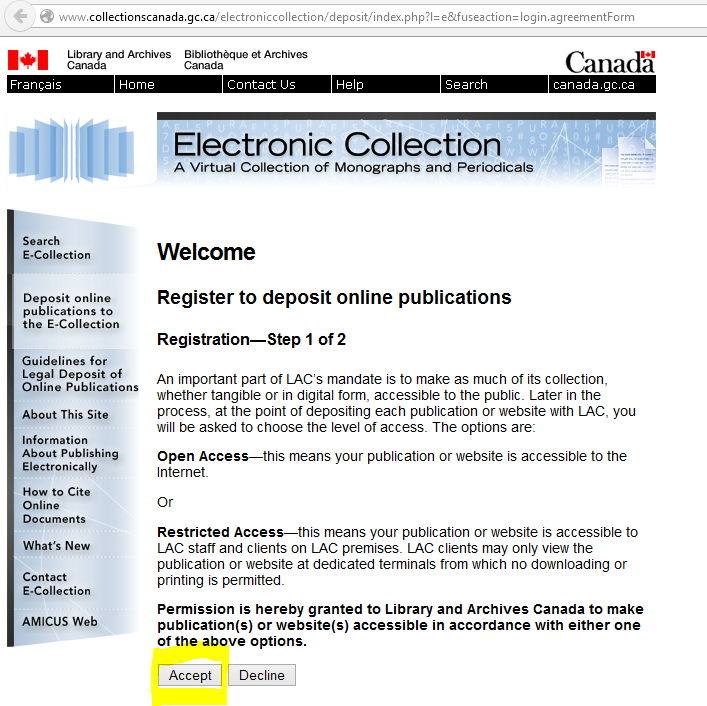 Once you hit "accept" it goes to a screen where you will be asked to register/set up your account.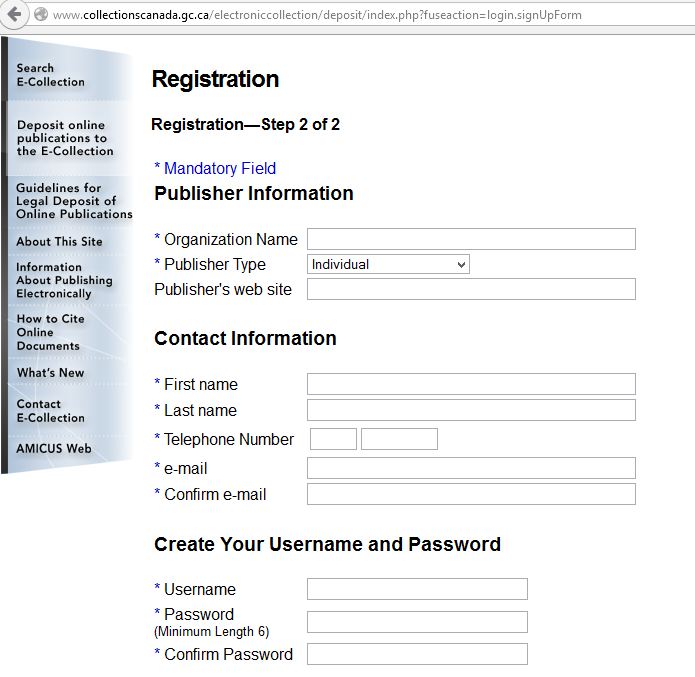 Then you go to a form where you can upload your digital publications. The form is straightforward and easy. It will ask you to upload the entire e-file of your book, the ISBN number, creator and what type of book it is (I chose monograph as each book stands alone, serial might fit for some of you). In the left hand blue column you can click on "Guidelines for Deposit of Online Publications" for more information.
I registered my first book and got an e-mail confirmation back within minutes. It's easy as pie. When each screen is completed and you hit "send," it will repeat the same screen and ask you to upload another selection until you have registered all your books.
But wait. As I read more closely I wonder if all this actually applied to me. I published with Createspace, KDP publishing and Smashwords. Here's what I read on their website:
Publishers Affected by Legal Deposit
Legal deposit applies to all publishers in Canada.
A "publisher" is defined broadly in the Legal Deposit of Publications Regulations as: "a person who makes a publication available in Canada that the person is authorized to reproduce or over which the person controls the content. It does not include a person who only distributes a publication."
Types of publishers include, for example:
trade and small press publishers

academic and educational publishers

periodical publishers

producers of music, video and spoken-word recordings

publishers of multimedia, cartographic and microform materials

federal government departments and agencies

associations, organizations

self-publishers
Note: Titles by Canadian authors published outside of Canada are not subject to legal deposit. If authors or publishers wish to donate copies of these publications to LAC's collection, they are welcome to send them to the following address.
Gifts Section
Library and Archives Canada
395 Wellington Street
Ottawa ON
Canada
K1A 0N4
In the end, I was still somewhat confused. I published with U.S. companies, but I used Canadian ISBN numbers. So, I called their toll free number to find out. The answer is – if you use an ISBN obtained in Canada your work is deemed published in Canada. Therefore you must register all your books with Library and Archives Canada.
Good luck. Now, all you Canadian law-breakers, go register before the Archives police (haha) come after you with their big stick.
[Thanks to Lorraine Reguly for writing in about this. – The Admins]