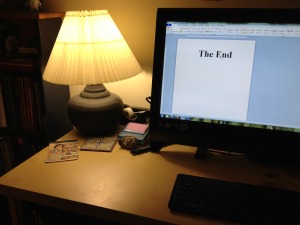 For the first time in months, my desk is clean. Not "clean" in the sense of "dusted," mind you – let's not get crazy here. But I've put away all the papers I used as reference material for writing my urban fantasy series: the pocket calendar; the Wikipedia printouts (some more accurate than others); the rough outline that I followed, more or less, for the last book; and so on. It's all back in the file folder that I labeled "Notes for Book 5" back before I had a working title for book 5 and never bothered to change, even after I decided the book would be called Annealed.
It's a curious feeling, to be done writing a series of novels. My original goal was to write an urban fantasy novel – just one! But then I thought, why not make it a series? And if I structured the series on the concept of a Native American medicine wheel, I would have five books: one for each cardinal direction, and one for the heart of the wheel. So that's what I decided to do.
And now I'm done.
Well, not completely done. I need to do one more editing pass. And I need to make the ritual sacrifice to the formatting gods so that the book will make it through the various meatgrinders without taking a piece of my soul along with it. And then, of course, comes the part where I get to try to convince people to buy it.
But I'm done with the inventing part. Naomi's story is told, and I'm feeling bittersweet about it. On one hand, I've had this huge project hanging over my head for the past year and a half, and I'm relieved to have the weight of my own expectations lifted from my shoulders. On the other hand, Naomi and Joseph, their friends and their enemies, have been part of my life for many months now, and for part of this year, the calendar in their world met up with ours – which is to say that their story was more or less happening at the same time as I was writing it. Now their timeline has reached its end, but mine is still going.
Big Al put up a quote from Thomas Helm on the Books and Pals Facebook page the other day: "My test of a good novel is dreading to begin the last chapter." As a reader, I know exactly what that feels like: the number of pages (dead-tree or virtual) dwindle, and you stall, savoring those last bits of prose before the story is done. Who knew it happened to authors, too? With this book, I found myself dithering over when to start writing it, and then I slowed down partway through. I told myself it was because I was dreading the Big Mediation Scene – which was true. But I was also dreading having to come to the end.
Or maybe it's not the end. I can't possibly be the only person who's ever finished reading a book, hoping that the characters lived on in some parallel universe. That's how sequels are born, right? And there's no reason why I couldn't write a sequel to the Pipe Woman Chronicles someday. Naomi's baby arrives in this final book, after all, and the kid's gotta grow up. But for now, I think I'll just appreciate my clean desk. And I'll raise a glass to my dear friends Naomi and Joseph, who are going on with their lives without me.