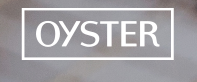 And then there were two: Oyster, one of the three best-known eBook subscription services, announced Monday that it plans to shut down. Oyster has been vying with Scribd and Amazon for customers for its Netflix-like plan, which allows readers to borrow as many eBooks as they want for $9.95 a month. Or it did. Now, Oyster's founders say they plan to "sunset" the service early next year.
It was a short run for Oyster, which launched in September 2013 as a competitor to Scribd. The marketplace got even more complicated in July 2014, when Amazon started offering Kindle Unlimited subscriptions for $9.99 a month. At that point, Oyster began offering titles for purchase outside of its subscription catalog.
Folks who keep an eye on these things have been wondering for a while whether the business model was sustainable. The viability of the model was really called into question in June, when Scribd revamped its catalog by cutting tens of thousands of romance titles. Their reasoning boiled down to this: romance readers are huge eBook consumers, and their subscriptions were actually costing Scribd money.
But Oyster's not giving up on the eBook business entirely. In the blog post announcing their closing, its founders said they'll be looking at "taking on new opportunities" relating to eBooks on cell phones, which they believe will become "the primary reading device globally" over the next several years. (My guess is they're either not talking to any older readers, who may have trouble reading on small screens even with the font size set to maximum, or they're writing off that market.)
Whatever Oyster plans to do next, it looks like it will be happening with Google Play Books. The site Re/code reports that Google is paying Oyster's investors for the right to hire some of its staff – including its CEO and two of its founders. Makes one wonder whether Google is about to make some changes at Google Play, doesn't it?
But where will Oyster's subscribers go? We minions discussed the topic as we sat around the gruel cauldron earlier this week. Some of us wondered whether Oyster's romance subscribers would pick KU over Scribd, based on their broader selection. But if readers are after author names they recognize (in other words, trad-pubbed books), Scribd might be a better bet for them. Another issue is subscription price; Amazon is famous for indulging loss-leader products to corner a market, and that may not be a business model Scribd – or potentially Google Play – can match.
What does it all mean for indies? I guess it depends on how much of a readership your books had on Oyster. I haven't looked at the numbers, but I suspect Kindle Unlimited has been the most lucrative subscription platform for indie authors.
Anyway, as always, it will be interesting to see how it all shakes out. What do you think?