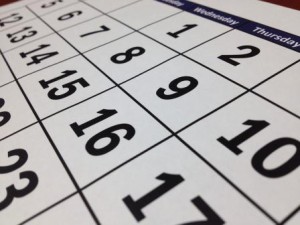 With consumers on the hunt for Christmas gifts in December, many authors decide to run sales around the holidays. However, self-published authors wanting to take advantage of this buying season need to plan ahead, so holiday closures don't derail planned price changes.
Just as schoolchildren and employees are off for the holidays, so are some of the retailers where books are sold. This means retailers may not be open when you're ready to discount your books. While you can expect the usual of Christmas and New Year's Day closures, some authors might be surprised to find the holiday hours for backend changes are quite sparse. (Most online retailers maintain normal 24-hour operations for those who are making online purchases.)
If you want to start or stop a sale during the last two weeks of December or the first week of January, you should check with retailers. If you upload directly to a vendor, check with them. If you use a distributor, such as Smashwords or Draft2Digital, you'll need to check their holiday hours and factor in the time that it takes the book to get from your distributor to each retailer's site.
Draft2Digital is actually awesome during the holiday season. Last year, D2D sent authors an email explaining when the retailers it shipped to were shut for the holidays and suggesting a drop-dead date for authors to make changes to titles. For example, last year's email said one online retailer would be closed Dec. 22-29. So, that was an 8-day period during which authors couldn't change price, content, covers, or other details associated with their books. Another retailer was closed from Dec. 29 to Jan. 5, meaning authors couldn't end a holiday sale (and charge more for their books) until at least Jan. 6, when the retailer reopened. Last year, D2D recommended making any changes at its site by Dec. 18 to ensure changes took effect for the holiday season.
Authors hoping to make changes over the holidays should look into any retailer policies that allow the author to establish changes in advance. For example, those in Amazon's Kindle Select program can schedule countdown deals to stop and start in advance. The Google Play Store also allows authors to schedule sale price start and stop dates in advance. If you're planning to release a book during a period of closure, you may want to set it up as a pre-order to ensure an exact release date. Most pre-order systems require the final manuscript to be uploaded several days before the release date.
Even if a retailer doesn't have specific hours of closure, it may process things more slowly. For example, a retailer that normally publishes a book within 6 to 8 hours after upload may take 24 hours. While the longer time may still be within the "normal" range for how long it takes to publish the book, it's on the outer edge of that range.
It's not just eBooks that require advance planning in December. ACX, the Amazon-owned company that produces audiobooks, sent an email late last month saying, "The deadline to approve any upcoming audiobook productions for the best chance to be on sale by the holiday season is December 4."
If you're planning any December or early January changes to your books — covers, content, price, or new releases — be sure to check with your vendors to find out when the drop dead time is to ensure changes will get made.