For authors and anyone in publishing, having books translated into other languages is a major expense. But Babelcube says its free service "enables book publishers and self-published authors to team up with translators and distributes their books in multiple languages globally." It will put your translated book up on all the major retailers' sites (Amazon, Kobo, etc.) and on numerous global sites, depending on language. Babelcube also has access to 300+ smaller regional and country sites around the world.
1.  What does "free" mean? It means you don't pay anything up front (in this article, you means the author and/or publisher, as the case may be.) Proceeds from sales are shared on a sliding scale among the participants: you, Babelcube, and the translator: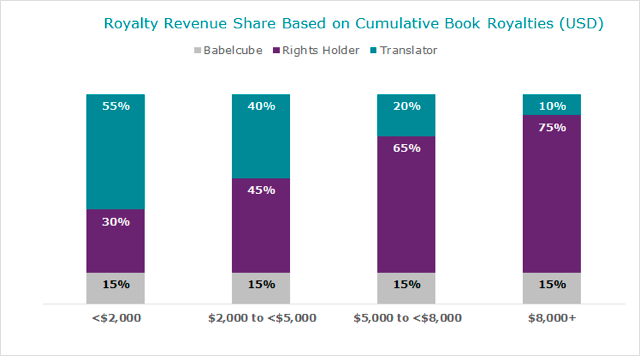 2.   How good are the translations? I've read comments from authors who were delighted with the translations, and comments from some who were appalled. Babelcube puts out a call for a translator of your specific book. The book would have to sell in the stratosphere for a translator to make the fees commanded by top-notch professionals. Therefore, you are likely to see responses from translators who are just starting out. It's a way for them to gain experience and establish good references. You may request a translation team: two translators will collaborate, with one usually acting as the editor and proofreader.
Once you decide on a translator, you will receive ten translated pages to accept or reject. If you accept them, you will have another chance to accept or reject once the first draft is completed. You'll probably want a language-fluent friend to review the work to help you decide. If you reject the translation, you can request someone else. You're not under obligation to accept anyone's translation if you don't like it.
3.   Who owns the rights to the translated book? Babelcube will own the rights to distribute the translated version of the book for five years. You will retain all other rights, including the copyright.
4.   Who is responsible for the book's cover and formatting? You are responsible for uploading the cover. There's been a gradual decline in quality and support at Babelcube, especially regarding formatting issues. Prasenjeet Kumar at Publishing with Prasen wrote an informative two-piece article entitled Babelcube is Fumbling!  He is a savvy indie author who created a work-around solution to the formatting problems. You can find his method in the comments to Part II.
Twice I emailed Babelcube about formatting. When the first email went unanswered, I sent a second one. Eventually I received two responses from two individuals, one for each email. How are books formatted? One said, "… we use an external service to automatically convert the word files into epub, mobi and pdf files." The other stated that the Word document is "formatted into an ebook automatically by our publishing system." Both mentioned that if you're not satisfied you can create your own formatted eBook and upload it to Babelcube. The "publishing system" is D2D (Draft2Digital).
5.   What happens after the translated book goes live on those major online and local retailers' sites worldwide? Babelcube does not market the book once it's gone live. You will probably want to coordinate a promotion with the publish date, but there have been complaints that Babelcube sometimes misses the established date. That could be a disaster, so it bears thinking over before taking the risk.
6.   What about a print version of your translated book?  Babelcube now handles print versions, which are sold through Amazon.
There are positive and negative comments all over the 'tubes about Babelcube. I suspect the problems arose from changes in upper management and/or an inability to handle unexpectedly rapid growth. The latter would explain issues such as sporadic reporting, unhelpful, delayed, or nonexistent responses from support, and so on. It would also explain why there is no recent activity on Babelcube's blog or Twitter accounts. There are recent posts to its Facebook page, which lists opportunities for translators to team up with authors.
7.   What do authors say?
Erik Hanberg, author and entrepreneur, currently has three books translated through Babelcube (in Italian, Portuguese, and Spanish) and has plans for more. He writes, "I would certainly recommend their services. I haven't had a huge amount of sales from it, but I approach it as: 'why not?' Why not have foreign language translations."
Prasenjeet Kumar (mentioned above) has numerous translated books on the market through Babelcube and has no plans to change. He says, "I definitely recommend Babelcube to any author looking to get her works translated. I feel that this is the best zero risk model (as yet) to get your books translated and to reach newer markets."
Author Jason Matthews has a terrific series about his experiences with Babelcube on his blog (the comments are also worth perusing.) Jason points out that the list of complaints he has with Babelcube is lengthy. Overall, he says, "The jury is still out. I'm hoping Babelcube keeps improving because it really is a brilliant idea."