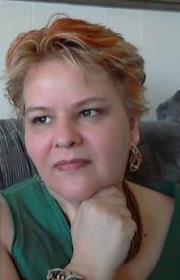 Meet Nancy Lee Parish, author of the soon-to-be-released fantasy adventure, "Amulet."  She is an author who is both inspired and inspiring. When I do these interviews, I always ask each author to identify their biggest challenge. Most of the time, I get an answer that is at once familiar to all writers. Often, I will just glean a word or two from the answers so I am not writing the same article over and over. Nancy's answer shows why I continue to ask this question, though:
"Running the 100 foot cord up to the public washroom so I could plug my laptop in to continue writing next to the campfire was challenging. That and mosquitoes. I won't bore you with details, but Amulet began in a tent in the middle of a prairie, amidst thunderstorms, heavy winds and sudden downpours. That was a very difficult time in my life, but it was also a turning point. We were homeless for almost 9 months. Writing a novel was something I always wanted to do, but never did. At that very low point, I guess I finally figured I had nothing to lose by starting to write. Fortunately, it concludes from inside solid walls, though the campfires were rather nice." Wow. I'm just in awe of that kind of commitment and passion.
I am proud to say that Nancy is one of my Facebook friends, and a good one. She exhibits the true spirit of the indie community and is always there to help another fellow writer along the path. I can also tell you she does all that with an impressive amount of wit and charm.
Nancy says she doesn't find inspiration, it finds her.  "When I do write, it just flows, almost like I am discovering the story as the words appear. I love that!" She credits Christopher Paolini as a huge influence on her and her writing. She remembers Paolini released "Eragon," the first book of The Inheritance series, as an indie. Nancy has read a handful of other indies, but says she has been waiting until after the release of her own books to start reading more. "What I have read so far is very refreshing. There are so many great stories out there by indie authors that have not been shaped into traditional publishing moulds," she says.
To aspiring writers, Nancy says, "If you truly love to write, then don't think of yourself as an aspiring writer. Just be a writer and write." For good measure, she adds, "Grow a thick skin and get really, really comfortable in it."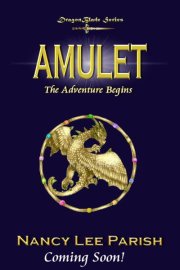 "Amulet" will be the first in her "DragonBlade" series.  She describes the book as an adventure with fantasy elements, most of which she says are not typical in epic fantasies. As Nancy explains it, "I use a wide variety of characters, everything from a stoic inventor/wizard to a burly, gruff, yet kindhearted, axe – wielding farmer who has a soft spot for baby dragons, and just about everything in between. There's even a mini dachshund who fancies himself fearless and adored by all the ladies. Mixed into the 'lightness' are those who live with regret and heartache, and those who would build a better world."
Her characters are not cardboard cutouts—no simple good vs. evil here. She promises  many twists and turns along the way in a quest for freedom from tyranny. "Amulet" is a story revolving around the internal struggles of both sides, yet remains a fun story that keeps the reader guessing until the final pages.
You can learn more about Nancy and her writing on her blog, and you can find her page on Facebook here.