Congratulations to indie author Gabriella West on the 5 star review of her novel The Leaving.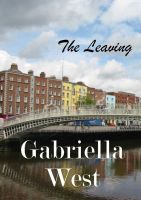 At 15, Cathy Quinn is an intelligent misfit living in 1980s Dublin. Over her last two years of school, Cathy struggles with her dysfunctional family, coming to terms with her powerful attraction to her best friend Jeanette, and leaving Ireland. The Leaving is a realistic, yet lyrical, look at adolescence and first love.
Above all, the novel explores the intersecting lives of two emotionally close siblings growing up in the hostile and homophobic Dublin of the 1980s, when homosexuality was still taboo, and being different was not tolerated.
Author/reviewer Shannon Yarbrough says, "And I cannot imagine my life now without having experienced this beautiful novel. Despite the plea in all of us to grow up, wishing our young lives away unbeknownst to what awaits us, I promise you will not want the journey The Leaving takes you on to ever end."
Read the whole review here.