Friend and author Nicole Storey shared some very exciting news: She has signed with Inknbeans Press for her first book, Grimsley Hollow-The Chosen One. Her exact words were, "SQUEE!!!"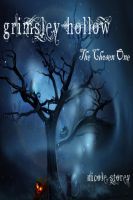 She says she still smiles every time she thinks about it and is now in the process of having the e-mail framed. Okay, maybe I added that last part.  Inknbeans is a publishing company with an excellent reputation among indie authors.
I caught up with Nickie while she was out shopping for a new Ferrari (as far as you know). She said, "Am I a lucky girl or what? I know in my heart that I couldn't have found a better bunch of people to help me take my book to levels that I have not been able to achieve on my own and I am so thankful!"
Nickie is a great friend to fellow authors, and I know she will not forget her friends down here in the trenches, what with Christmas right around the corner. (Ahem)
We wish Nickie the very best success, and look forward to hearing more from her as her work with Inknbeans progresses.
Learn more about Inknbeans from their excellent website.