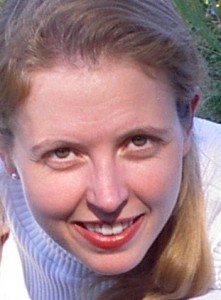 I was recently asked to describe the road to publication. The immediate things that came to mind – often confusing, constantly changing, wholly different than anything I'd done before – made me realize that navigating the road to publication is actually quite like…driving in New Jersey. There are a million different routes to take – with a million other people traveling all of them – and any given day could find you either moving at break-neck speed or stuck at a dead-stop. And, also like in Jersey, sometimes you have to turn right to turn left – you have to go in the complete opposite direction you want to in order to get to where you need to be.
Now, I think most writers – myself included – are aware of those conditions before they start the journey. What did surprise me, though, was how lonely the trip turned out to be. The story and characters consumed all of my thoughts, appearing in my mind in random bursts like flash sneak-peek scenes, leaving me to go back and figure out how the characters got there. For example, when Clio takes what we'll call "an unexpected turn" in book # 2, I didn't set out to have her do something wild or out of character; that scene popped into my mind before I'd even started writing "Settling" – pretty much the same way the romantic scene of "Solid" came to me and set the ball rolling for that book. Because of that, the experience has been like watching a favorite show (or should I say "drive-in movie" to continue the metaphor?) with me constantly wanting to call my girlfriends and say, "Can you believe what just happened?" Except I was the only one watching the show – the only one who got the "Solid" channel. It was almost as isolating as Clinton Road (ranked by the Travel Channel as one of the "Most Terrifying Places in America," in case I lost you there).
Luckily, several like-minded authors have put together some great online groups so that writers anywhere on the publishing road can connect – rest stops on the virtual publishing pike, if you will. I've met so many pen-wielding travelers on sites and in chat rooms where we discuss things like the heartbreak of killing off a deeply-loved character, or enabling a good hero to turn bad. *Meeting* all these fellow road-warriors has been exactly what I've needed as a writer to keep on truckin'…and yes, I can say that, because I drive an F-150.
But in all seriousness, despite the detours and potholes, publishing my Solid series has been an awesome trip, and I'm so thankful for all the readers who came along for the ride.
Author Shelley Workinger grew up in Maine, graduated from Loyola University New Orleans, currently resides in New Jersey, and considers all of them home. "Solid" is her first YA series. Learn more about Shelley and her writing at her website and blog. Find her on Facebook or follow her on Twitter.