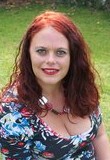 Friend and author Kristina Jackson announced today that she has accepted an offer from Inknbeans Press to join their team.
I caught up with Kristina while she was out "interviewing" limo drivers (as far as you know). She said, "When we are children we are told to wish upon a star, in adulthood we oft forget the magic. Don't, because today by joining the bean team, my wish came true."
Kristina will be bringing her debut novel, The Fool's Journey to Inknbeans. This turn of events follows closely on the heels of Kristina's interview here on Indies Unlimited. Coincidence? You decide!
Kristina is one of the Book Junkie mainstays, and we hope she doesn't forget her pals when she's rich and famous.
We wish Kristina the very best and trust she will keep us apprised of  future developments.