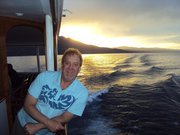 The social networks are buzzing about the demise of the publishing industry. Some claim that eBooks have overtaken printed books in sales. We've all heard from both sides and you can't find a discussion on LinkedIn that doesn't tap into this thread.
I've recently completed a stint as a volunteer for the Miami Book Fair International, the largest book fair in the country. This eight-day literary party was amazing on many levels. First, it takes place in Miami. As a resident of Miami I can say that Miami is not the most literate and book wielding city in the country. To see hundreds of thousands of people lining-up to celebrate books is mind-blowing. People from all corners of the globe, of all ages, from all races, congregate to talk about—BOOKS.
What makes this event so special is that it is about two things … the author and the reader. It is an opportunity to rub elbows with your literary heroes, to ask questions about the process of writing, to question where the next installment is going and to connect on a personal level with those that write prose.
Mitchell Kaplan, the owner of Books & Books, one of the leading independent bookstores in the country, is the co-founder of the fair that has been running for twenty-eight consecutive years. Mitchell recently received the 2011 Lifetime Achievement Award by the National Book Foundation. The fair brings in over 300 authors to talk about their work and connect with their fans.
This year, the likes of Ron Suskind, Dave Barry, Ridley Pearson, Tim Dorsey, Harry Belafonte, Christopher Paolino, Jeff Kinney, Darrell Hammond, Michael Moore, Chuck Palahniuk and too many more to list, riveted their fans with stories, anecdotes and opinions.
The one common thread between all attending and presenting—Books.
Real paper … Dead tree variety of books. Sure, there were a couple of Kindles floating around but the discussion wasn't about the health of the book publishing industry or the viability of booksellers. It was about the work that goes into creating an escape. Readers, armed with stacks of books, waited to have their hero scribble a couple of lines on the title page. With every author, whether a memoirist or novelist, fiction or non-fiction, the book signing lines were the same. Fans lined up excited to meet their favorite author, many nervous about what to say.
In my opinion, books are here to stay. While we all have our Kindle, Nooks and iPads, the traditional book is not going anywhere soon. There are some cute methods to perform electronic book signings, but they will never replace the Sharpie scribbled autographs. Fans waited as much as two and a half hours with their pristine copies and weathered tomes, just so that they can get a personalized note. In a time of electronic everything, books ruled for at least eight days. Fittingly, the comment I heard most frequently in the signing lines, "I have to get more bookshelves!"
 *    *    *    *    *
Jim Devitt is the author of The Card, available from Smashwords and Amazon and in print from Createspace. Jim Devitt spent eight years working behind the scenes in a Major League clubhouse. He has authored and co-authored numerous peer-reviewed research papers and presented at conferences throughout the country. He currently lives in Seattle, Washington with his wife Melissa and their son, Gavin.   Be sure to check out his excellent blog. You can  find him on Facebook and and LinkedIn, and follow him on Twitter.