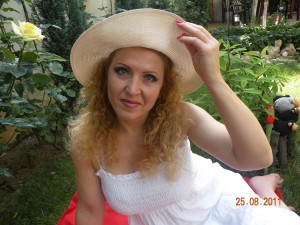 Author Oana's Bio
Born in Bucharest, Romania, Oana lived twenty years under the grotesque dictatorial regime of Nicolae Ceausescu. After the fall of communism in 1989 she studied languages at the University in Bucharest, then received her Master's at the Jagiellonian University in Krakow, Poland. English is her third language.
She has worn many hats, working as a translator, as a teacher, and eventually caring for animals both domestic and wild. She volunteered and worked for wildlife rescue and rehabilitation centers both in the US and Canada.
Healing through laughter is not a dream, but a recipe for survival
The Healings turns one man's major depressive syndrome into a fun trip. Anyone who has been through depression knows how impossible it seems to get out of it. What If you don't even try to get out but stay in, and make most of it while there instead?
This is what my character does. He is alone, depressed, and looking for answers. In his search for completeness, he and his feline friend go from one healer to another only to discover that not only they don't get any answers but they seem to be burdened with even more questions than when their journey had started. Most of the 'healers' are charlatans who laugh at him, while the few enlightened ones are as elusive as they can be. As the frustration mounts, the little man with big problems grows up and becomes an aware being.
It is a funny book where the most serious life decisions and situations are treated with humor but not taken lightly.
In the end, there isn't much one can do about life except laugh.
Author Oana on Silence
When my book The Healings debuted last year in November, a few very close family friends – people who had known me for over twenty years – were surprised and one even told me, "I am happy to discover you." Mind you, I am not a hidden person, rather an easy going, sarcastic clown. I hold back in the presence of people, but not because I fear judgment or opposite views. I would say that sometimes I do not feel safe around people.
Life under oppression taught me little practicalities such as creating short meaningful sentences. There was no room or purpose for the "pretty" metaphor, at least not in daily interactions. Imagine a child running home with the news of rationed sugar being distributed at the neighborhood grocery store. How would he deliver the important news to his mom? In a few impactful words: "Sugar! – in the back of the store, line has over forty people."
Our reality was that simple. Our vocabulary reflected the lives of people who were focused exclusively on survival. In those times no one would tell you, "I couldn't answer the phone because I was mousesitting for a friend," but just let you know upfront that they did not feel like talking to you. Besides, the phones were bugged, anyways and what could you talk about really?
I think this had shaped my thinking, and writing as well. A twisted definition of practicality came to life in my mind, even as a teenager. A word was said only if there was some important meaning attached to it and only if it served a distinct purpose. This very perception of reality applied to the smallest and least significant of situations. I had surprised myself thinking that if one word or another would help a man get laid, then by all means he should use it, but if there is no potential whatsoever, why would he even bother to open his mouth and generate useless sounds? Why would you go and just sit in the restroom if you do not have to go? Why would you answer questions no one has? Although I must say I have seen some pretty well designed open-spaced restrooms that enticed meditation.
I guess back then we had no problem eliminating the unnecessary words because we were cautious. Words could be used against you, and there were immediate repercussions. Why not keep your mouth shut instead? Now I look back and there is nothing I can do about it, except laugh.
Author Oana On Truth
As someone who lived a farce and a lie for twenty years of my life I have developed a deep respect for Truth. I cannot lie, and I walked away from many relationships for what you might consider "insignificant" or "little" lies. Let me explain something to you: there is no such thing as ''insignificant'' lies – and I am not talking here about a lie that saves someone's life. When a person whom I consider close lies to me, I have to walk away. I ask myself why he or she did it, and I lose faith in them. If they lied to me in a small matter what would they do in a serious situation? Can I trust them? Probably not, and I for one am taking no chances. Lies can destroy lives, and leave nothing but horrible traumas behind.
Truth saves time. I know it is tough to admit to our mistakes and to embrace the truth, but it is well worth it. We all have insecurities but it is not a good idea to be liked for who you are not. Let people walk away from you if they cannot love you the way you are. The right people will come along.
But then I get approached by one aspiring writer and I have to listen to his erotic poem titled, Wet Sand. "It is short," he assures me. Indeed it is short but it is also pointless. I want to tell him that his male character masturbating on the beach at the girl he just met on a dating site does not constitute an important literary event, even if many a man can probably relate to this situation. While I am deeply convinced he should not write again, I don't want to be rude. See, a tough one. Tell the raw truth or sugarcoat? Life challenges us constantly.
I think that even in free societies a lot of conflicts arise from the fact that people do not feel responsible for their words; they do not own them. One thing that pisses me off beyond belief is to have my own words distorted and misinterpreted in some cases right in front of me. I say, "I have been in this house before and I don't recall opening these doors." And here he comes, a passive recipient of my statement who delivers my words to a third party, "She says she has been in this house many times and she could open whatever doors she wanted." Sometimes I have the opportunity to confront the "butcher" but sometimes I do not, and I have to explain myself for something I have never said or done.
In the end I look back and start laughing at these situations. What else can I do?
Author Oana on Books and Writing
Why do we buy and read books?
We do this to create, improve and maintain literacy, so say our wise teachers. But I think this is some far fetched idealistic situation. Ultimately we common folk read in order to maintain an acceptable vocabulary, to make our communication and social life easier, and to make our love life better.
To me literacy means that future generations of children will be able to describe the slices of cucumber on their plates as, " thick, juicy, light, green" and not only as, "big."
Some will argue that we read in order to learn spelling, but I say no, cuz speling iz not da deal as long as u hav sumthing 2 say.
So I am asking you today to buy a book, not so that your son could go to Harvard, but so he can describe the cucumber on his plate using better richer words than you're using now.
Author Oana on Marketing
I "hate" marketing. I think every artist does. Marketing is time-consuming and we love to write.
Once again what can we do? We need to be out there "marketing." I was chatting with my mentor and friend Kenneth Weene, an awesome psychologist who authored Memoirs From The Asylum and Widow's Walk. He was questioning the usefulness of some event I wanted to sign up for – Lovers of Tabby Cats Roundtable or something like that. I told him jokingly that this is what a renowned marketing guru taught me to do. "Just like a dog would pee on just about any bush so should you authors join just about any event, in order to get your names out." The guru advised.
Ken replied, "Woof." We all know that no writer could ''pee on every bush.'' There is no time to join and follow thousands and thousands of websites.
There is little one can do about it. Except, perhaps, to laugh.
Author Oana on Affection
One of the main drives of The Healings is affection. The man and his cat love each other, even if they have a far-from-perfect relationship. Affection is such an underrated feeling. I am not talking erotic love. I am talking touch. I am talking intimacy. We hug each other, hold each other, and touch each other on many levels, not only the physical.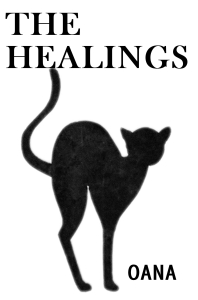 I see people who are in what they call a close, deep relationship that is void of affection. It has nothing to do with gender, although the belief that men are not capable of giving affection is very common. Bullshit, I say. I can give you a very good example. Look at animals and how they cuddle with each other. This is basic animalistic affection. Why can't people do it? That I do not know.
In The Healings, the affection between the man and his cat shows in every detail and gesture of their life. They laugh at each other, they hate each other, they have fights, they share food and philosophy, they break up and make up, yet they are moral support for each other.
They even try to change each other, which is the trademark of human relationships.
And at the end of the day there is little they can do but laugh at themselves.
Follow them! They will make you laugh.
*     *     *     *     *
Oana lives in Arizona, where she continues to dedicate most of her time to her animals and to writing. Her current projects include a memoir titled, Romanian Rhapsody, a children's book,Dr.Schnauzer and Nurse Lhassa as well as numerous scripts and unfinished short stories. Together with Monica Brinkman she co-hosts Two Unsychronized Souls Radio Show. Check out her website at: www.thehealings.net.
Her newly released book, The Healings is available from Amazon.