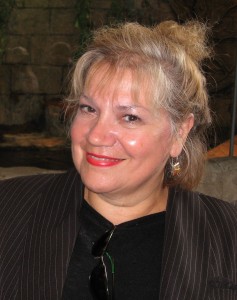 For most of us the local library is a place to go and relax, take a class, or spend a quiet afternoon. But something else is going on at your local library—book promotion!
As a new author, the first thing I had to do was begin building my list…my mailing list. I began by taking a sign-up sheet to every event that I attended as a guest speaker or presenter. It didn't matter what the event was, a book fair, a signing in a book store or retail store, or a presentation at the local library.
Most new authors think that to be successful you have to have a huge platform (mailing list), when truly; you can build a successful following with only a few-hundred-name seed list. It's not hard, but you must be diligent in asking people to sign-up.
Your local library is an institution that, along with the publishing industry, is in flux. As e-books become more of an option for readers, libraries may be faced with fewer patrons, and dwindling budgets. To combat this trend libraries are morphing themselves into community and cultural centers. Your local library and its branches are committed to bringing useful, pertinent programming to their members. One example of this is the myriad of computer classes offered free of charge. You can learn how to setup a Facebook account, LinkedIn page or Twitter account at your local library.
As an author and an expert on self-publishing I have been quite successful at presenting to local and regional libraries. The bigger the library—the better. My book, Self Publishing for Virgins: The first time author's guide to self-publishing is a how-to book that takes new authors on a step by step, screenshot by screenshot, and checklist by checklist journey through the maze of self-publishing.
Because my book is a how-to it has been easy for me to persuade libraries to host my one hour presentations on how to self-publish a book. But what if your book is creative non-fiction, sci fi, a romance, poetry or memoir? No problem. You can either tell the library you want to do a short reading with a question and answer period on how you came to write your book, or, if you are a poet or memoirist, you can read and share how to write poetry or memoir.
If your book is science fiction, fantasy or a vampire tale, you could do a 45 minute talk on how to write an exciting vampire story. Perhaps you could share how you developed your book. Did you start with an outline? Did you use character profile sheets? What was your daily writing routine?
Here is my seven step approach to developing your presentation and then booking yourself into a library appearance.
7 Steps to Booking your Presentation with the Library
1. Write a 250-350 word bio about yourself. Include a photograph (jpeg) that is a good picture but not staged. Your bio should be part resume and part sales pitch.
2. Decide what you want to present. Most successful presentations are 45 minutes long, with 15 minutes for questions. If you are going to use a power point slide show, most libraries can provide you with a laptop and projector. You will need to bring your presentation on a flash drive.
3. Write a 150 word description of your talk. You will use this later to contact the library program director. (In most cases, this is the branch manager.) If you will be reading from your book, that's fine, but give the audience something extra—tell them how you came to write your book, what was the process like? What are your daily writing habits? How many drafts did you create before the book was finished? Did you use character profiles or did you do an outline? People are curious about the process of writing and talking about your process, in addition to reading an excerpt will make your talk more interesting.
4. Create a one-page sales sheet about yourself which includes a copy of your book, your website and contact information, author bio, and presentation overview.
5. Contact your library branch manager or the person in charge of library programming for that branch and propose a presentation. You can contact the main library branch as well, but they may not be as flexible as the branches. Each branch creates their calendar and operates their branch autonomously.
6. Follow-up immediately by emailing your sales sheet. If you need presentation equipment, let them know in advance. Always call at least six to eight weeks before you want to present. This gives the library time to include your presentation in the library newsletter. The newsletter is circulated to hundreds, perhaps thousands of people. Line up talks at several branches over a six month to one year period.
7. Create your mailing list form, and create a giveaway to entice people to sign-up on your list. I offer a free newsletter on self-publishing. You may offer a special report or a discount on your book.
With library presentations you can accomplish several things:
• Build your experience in public speaking
• Build your list of potential readers and buyers
• Expose your book and your name to new people who read the library newsletter or attend your presentation
• Establish relationships with the local and regional librarians
Remember never to sell your book at the library without first getting permission from the librarian. Some libraries won't let you sell books inside the branch, but many allow it. The courteous thing to do is ask for permission before you present. For larger readings in bigger libraries, I have setup a signing table just outside the library and directed people to my sales table after the event.
If you have bookmarks or other giveaways, provide those to the folks who sign your mailing list.
Over the past few months I have done several library presentations with numbers ranging from 50 to 5 people in attendance. I have added hundreds of names to my mailing list, made dozens of great contacts, and established relationships with librarians in my city and in the region.
*     *     *     *     *
Peggy DeKay is an author, speaker and book coach. She is the publisher of The Business of Writing TODAY blog and The Business of Writing TODAY podcast. You can subscribe to her The Business of Writing TODAY blog and podcast here. You can learn more about Peggy at her website.  Her book Self-Publishing for Virgins is available on Amazon.com.[subscribe2]