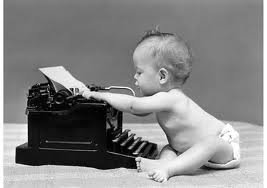 There are many potential pitfalls for new authors. Not for me. Not that I ever was a new author. I was born an old author. Like an older, wiser Hemingway with more of a drinking problem, but without the suicide problem. Still, it is hard for me to watch others make mistakes that I have seen people of lesser worth than myself make.
One thing new authors do is think they are hot shit. This happens a lot. It happened to a friend of mine. He got paid to write at a very young age. He was the hotshot writer in all his classes. Then he moved to San Francisco and got his ass handed to him. Actually, he was still fairly good, but he definitely wasn't the best, and he definitely didn't get better until he ate some humble ramen.
I have another writer friend that obsessed too much about his writing. Too much editing. Everything had to be perfect. This held him back. He spent a year working on a story that consumed him. It was published in the Berkeley Fiction Review (and also accepted by the Chicago Quarterly Review), but the point is that it was as good as it ended up being after a month. He just couldn't let it go.
After the success with that story, my friend got a LOT of rejections. Tons. It was daunting. It didn't make him want to stop writing. It did make him want to stop submitting. But he got over that.  He is a man of extremes. And extremes are stupid.
So, a lot of beginning writers are too hard on themselves. A lot are too generous. Some are too self-indulgent. I play guitar, so I think of it in those terms. I appreciate good guitar playing. 15 minute solos make me think the player is on drugs, an ass, or both. Probably both. Same thing with writing. If you find yourself trying to impress the reader, you have taken a wrong turn. You're trying to entertain, inform, transport. You don't want the reader to put your work down and say , "well, SHIT, that's some writing right there." You don't want the reader to put your work down. Dig?
A lot of new authors smoke. You should quit. It's bad for you and you can't afford it.
A lot of new authors get jealous. A lot of new authors get intimidated. A lot of new authors get discouraged. A lot of new authors get jammed up. A lot of new authors get frantic staring at a new blank page. Frightened of what their friends will say. A lot of new authors read great books and think they aren't even worthy to be in the game.
A lot of new authors don't know some of the things seasoned, experienced authors do. There are times when you will feel confident. Times when you will feel weak in the knees. Embrace these. There are times when you will write something convinced it is brilliant and it will be shat upon. There are times when you will write something for a lark and it will be revered. There are times you will succeed and times you will fail. But there is really only one way to really fail at writing.  And that is to stop doing it.
*     *     *     *     *
JD Mader is a Contributing Author for Indies Unlimited and author of the novels JOE CAFÉ and THE BIKER. For more information, please see the IU Bio page and his blog:www.jdmader.com.
[subscribe2]