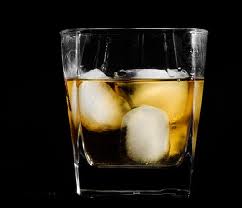 Writing is different for everyone. When I am rolling, I am disconnected from the world around me. My brain is a white hot fire. My fingers sprint over the keys – the kind of sprint where you are running so fast that you are convinced you are moments from toppling over, yet the fingers land. When I am taken OUT of this reverie I become unreasonably angry. I do not act on the anger. But I seethe. The sharp teeth of retribution whisper in my ears.
Years and years ago, I used to drink (among other bad habits). I did not drink socially. I did not drink anti-socially. I drank all the time. Drink was my medicine. It cleared the cobwebs of leftover sleep. It stilled the shaking of my hands. I bought store brand bourbon and drank half a fifth a night. A whole fifth on a good night. Or was that a bad night?
I rarely wrote while drinking. Or at least while drunk. Writing was one of the things I would not allow myself to do while intoxicated. The brain fire dimmed. The fingers truly did stumble. Writing was the only thing I cared about, and I wrote sober, even with sweat pouring from me…even with fingers shaking so badly I could barely type.
I mention this because it is interesting to me. I played shows drunk. I went to class drunk. I went on first dates drunk. It made sense at the time. I was in much better shape with a bellyful of bourbon than sober. My movements were more fluid. My mind less scattered.
Several things happened to me when I was young that I have only recently come to grips with. They tore at me when I was sober. I hid from them in the burn of cheap whiskey. But not when I wrote. And people asked me why I wrote such dark things. Because the darkness was reality, unabridged by drink. Edges clear and defined. It was when the edges blurred that I could emerge into the world. It was when I was not conscious of being alive that I did not want to die. And writers drank. Shit. Writers were the best drinkers. Bukowski spurred me forward. Kerouac was my idol, partly for his words, mostly for his self destruction.
I have changed my ways. I have learned different ways to deal with the demons of my past. My writing has improved. I am a "better person". Yet, I sat down to write this piece today, and I wondered at all the writers waking up with desert-dry mouths. Friends of mine who still live in a bottle or a needle or a bottle of pills…that are OK…because a doctor prescribed them?
I thought particularly of one friend of mine. He was my reflection. For many years we rode the same rails and it was his hand that kept me from falling completely. Competition, jealousy, love, dependence…call it what you want. We needed each other. He is currently lying in a bed somewhere either in withdrawal or in a heroin darkness. I am waiting for the call to his funeral. He has gone too far and cannot be brought back.
Inside his mind there are a million devils. He kills them…rather, he buys time with the shade of bliss that opiates provide. Somewhere in that mind, there is still a great writer. That writer will die with him.
So, I thought of my brothers and sisters today. Because we are you know…brothers and sisters. No one but a writer can ever understand the beautiful misery of our pursuit. The masochistic yearning. And some of you have your curtains drawn. And some of you know people who are hiding from the brightness of their own light. And maybe there is something we can do and maybe there isn't, but we can by God try.
When I think of the time I stole from myself, I am angry. I wrote. I published. But it could have been more. I could have been more. I thank whoever is responsible that I have any time left at all…so, I guess I thank myself. Sure, my memories are scarred in ways I cannot change. And sure, there were bastards who stole from me, but never as much as I stole from myself.
Writers drink. Some of you wrap yourself in this cliché and find solace. I know you do. Because I did. You are mistaken. Writers write. Drinkers drink. Some do both, but I would rather excel in one and fail at the other. I am a failed alcoholic. I could not seal the deal. And I will be forever grateful.
Writers, there are pitfalls all around us. There is drink and drugs and apathy and depression and stasis. That is the worst of all…and it is what drinking gave me. Stasis. I did not look backward, but I did not move forward. I was in the holding pattern that precedes death.
I would rather live in a sober darkness than in a pitch black bottle. I am a man of absolutes. Granted. And some of you may be able to keep a foot in both worlds.  But some of you won't. Think about this. For yourselves. For your words that ricochet like crazed wind-up toys inside your mind. Think of it for my old friend, who is slowly dying when he should be here, competing, supporting, putting words on the blank page, fearless – with the rest of us.
*     *     *     *     *
JD Mader is a Contributing Author for Indies Unlimited and author of the novels JOE CAFÉ and THE BIKER. For more information, please see the IU Bio page and his blog:www.jdmader.com.
[subscribe2]