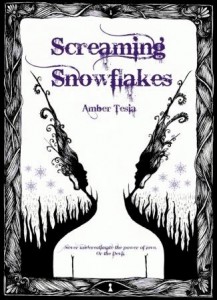 Today, we feature a sneak peek of Amber Tesia's Screaming Snowflakes.
Eleanor is the antithesis of the rebellious Raphael, whose damned and tainted soul threatens her very existence. Unseen supernatural forces conspire to keep the lovers apart, yet nothing can harm Eleanor as she remains under Raphael's protection.
With an unprecedented alliance between a human and the epitome of darkness can a pure, forbidden love conquer all?
As the boundaries of good and evil become blurred and transgression becomes inevitable, this gripping, thought provoking tale will engage all who have ever questioned love and humanity.
This title is available from Amazon US and Amazon UK. Learn more about author Amber Tesia at her website and follow her on Twitter.
Continue reading "Sneak Peek: Screaming Snowflakes by Amber Tesia"