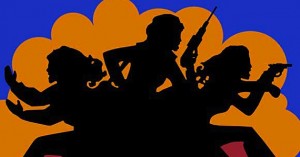 Ahhh, Easter is over. I have a sugar hangover that would fell a mortal man. I looked into the innocent eyes of my three year old daughter and tried to explain why a bunny would bring her candy in the middle of the night (she asked, she's a sharp one). Strange thing, that. I don't know how many times I have told the child not to take candy from strangers…but, it's OK if it comes from a giant rabbit who breaks into your house in the middle of the night. Hmmm. I think she is humoring us. And it is a dangerous message. Almost as much as Disney (Copyright, all rights reserved, appropriate trademarks and kow-towing implied…please don't sue us) convincing my daughter that "poison" makes you fall into a beautiful, peaceful sleep until a handsome chap on a horse comes and kisses you and you wake up and fall in love. Thanks capital D Disney. What was I talking about? Oh yeah, my head hurts, much like it did when I woke up in an alley with the taste of Robotussin in my mouth and no pants only to find out months later I had "co-written" a book. Collaboration. That's what I want to talk about.
K.S. Brooks, in all her sexy wisdom, suggested several months ago that she, Stephen Hise, and myself write a book together. Not just any book. The worst book that had ever been written. This was music to my ears as I had grown tired of writing shockingly GOOD books. There was initially a fourth writer in on the plans, but he bailed and shall remain nameless (Antrobus, you stupid jerk, I hope we make a million dollars and then you can drive my Rolls). So, the three of us decided to write a bad book. One problem: everything we right is got-damned gold. We wrote a bad book so good it will make your ovaries ache (especially if you are a man). And I thought you might want to hear about it, because it was my first ever threesome and it might not ever happen again.
Kat started with some computer magicness and opened a thing called "dropbox" which allowed us all to work on the same manuscript. Sometimes we wrote paragraphs, sometimes pages – to be perfectly honest, I don't really remember. There is one part I know for sure I wrote, but the rest is anybody's guess. And that was the really suprising thing. When you read the book (and you will!), it doesn't seem like three people wrote it. I'm not sure how we pulled this off. Unless it is because of our awesome powers. Or possibly because Hise and I were smart enough to go on a three month bender while Kat wrote the book. At any rate, it's interesting to me that it came out so smoothly.
The other cool thing…let me back up a little. When I was a young writer (I majored in Creative Writing, hence the luxury automobiles and top shelf Ramen), I workshopped many a story. Sometimes I got really good advice, but I refused to incorporate it even if I thought it would improve the story. Because then it wouldn't be MY story anymore. Stupid, huh? I've gotten over that. I take advice like candy from a baby now. But there was something particularly freeing about this. I love the way the book turned out and the fact that I don't really know who wrote what is part of the reason. It's not about me. Or Kat. Or Hise. (OK, it's sort of about me).
In all sincerity, though, I was honored to write with these two excellent writers. It was a blast. I suggest you read it. I lament the fact that you will never get to read the parts we cut for decency's sake. But I would encourage you all to try it for yourselves. I have two other collaborations in the works right now. It's fun. And it is an amazing example of our weird, internet-indie world. I have talked to Kat on the phone. I think. Hise, hell, he may be a 13 year old girl. I wouldn't be able to pick him out of a crowd (I could make a good smell-based assumption, though). A year ago I didn't know these weirdos. And today you can (and will!) buy a book we wrote together without ever having to make eye contact.  It's a really good Bad Book, but that's not what makes me feel like I am wrapped in kittens when I go to sleep every night – no, that's the kitten blanket I made. And the knowledge that we actually practiced what we preach. Humility. Solidarity. All for one and one for all. Now go spend .99 cents you scamps, you.
*     *     *     *     *
JD Mader is a Contributing Author for Indies Unlimited and author of the novels JOE CAFÉ and THE BIKER. For more information, please see the IU Bio page and his blog:www.jdmader.com (and musical nonsense here: JD Mader).
[subscribe2]