Today we're pleased to announce the winner of the 15th weekly Flash Fiction competition at Indies Unlimited.
The winning entry is rewarded with a special feature here today and a place in our collection of winners which will be published as an e-book at year end.
A total of 138 votes were cast in the contest this week. The winner (with 26% of those votes) is J. L. Murray.
Congratulations to J. L., and thanks to everyone who participated – excellent entries! Now, without further ado, (release the flying monkeys) here's the winning entry: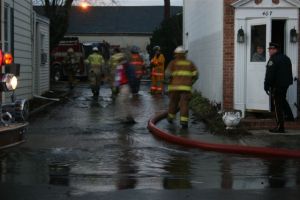 Last Call
by J. L. Murray
Mike saw the boy when he went back to the truck to get more hose. The fire was too far gone to enter the house, but the concern was for the nearby woods. One spark and they'd have a raging forest fire. Mike thought of Sheila. They had to pack for Boca.
"Hey, kid, what are you doing out here?" Mike said. The dark shape froze. Mike could see the reflection of the flames shining in his eyes. Something was off about him. The way he stood. Like his legs didn't work right. He smelled, too. "You okay, kid?"
"I'm fine," the kid said quickly.
"Where do you live, kid?" The boy didn't answer. Just looked toward the burning house. No one seemed to know if anyone lived there, but the fire was too far gone to check. "You live here?"
"No one lives here," said the kid. "Not anymore." He put a hand on Mike's arm. He moved slowly, limping. Mike looked down. The ragged sleeve had pulled up on the boy's arm and Mike could see a dark line on his wrist in the flickering light. Scabs around his wrist. Mike stared at the boy.
"I have to go now," said the boy. "Thank you."
"For what?" said Mike.
The boy shrugged, limping away. The fire was dying. There were shouts from the house. "There's a body here," someone called, panicked. Mike looked back to the boy but he was gone. Into the woods.
Mike thought of Boca.
[subscribe2]