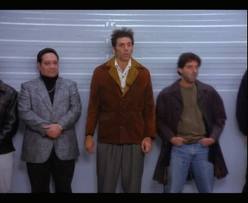 Everyone has gotten a chance to read articles by the IU staff, but how did you do at picking their writing out of a lineup?
We posted five lines from five books by five different authors on the Indies Unlimited staff and asked you to match the correct line with the correct author. If you haven't had a chance to play, here is the link to the original article before you peek at the answers below the fold. You're not peeking below the fold are you? I thought I felt a draft.
The authors are next to the lines from their own books. Congratulations to Krista Tibbs who not only correctly guessed which line came from which author, but also the books from which the lines came. So, either she's read all these and has an eidetic memory, or she has major evil Google-fu skills. Either way, that's hot!
1.

"He closed his eyes and slipped into the dark, beautiful place where first kisses bloom."—from The Biker by JD Mader


2.

"The trees' silhouettes were a deep, velvety green, and their outlines were haloed in glittering frost. "—from Night Undone by K.S. Brooks


3.

"Um. It's sort of a rescue."—from The Sable City by M.Edward McNally


4.

"I'd been in the kitchen when Angeline had practically burst with joy to report the news to my mother how her Joseph was dating a pretty blonde cheerleader with breeder hips and none of those pesky career ambitions."—From The Joke's on Me by Laurie Boris


5.

"Are great people born in times of great trouble or do times of great trouble cause people to rise to greatness?"—from The Coming Storm by Valerie Douglas

[subscribe2]