Today we have a sneak peek from Guido Mattioni's book, Whispering Tides: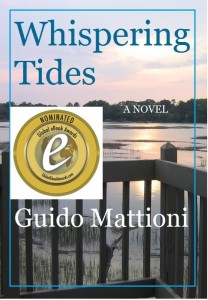 When his beloved wife Nina suddenly dies – after 23 years of life together – Alberto Landi understands he has to leave Milan Italy, where he has always lived and worked. He leaves his friends, colleagues, a good job and the polluted big city he has never loved which has now become even more intolerable to him. He is fifty, he is totally alone and he is confused, but he definitely knows that he has to escape very far away, across the ocean, to the only place he and Nina had always loved together. He lands in Savannah, Georgia. There, in a natural paradise governed by the breath of the tides and with the help of many dear friends – colorful human characters as well as wise animals – he starts to rebuild his new life. His dream is coming true until the day he wakes up one morning and discovers that…
Whispering Tides is available at Amazon.com for Kindle as well as paperback.
And now, from Whispering Tides (the lead):
Amniotic fluid
The air told me and the azaleas confirmed it: it was the end of March in Savannah.
I was inhaling, breathing, and becoming intoxicated. Yet it was not perfume. It was an antique, ancestral odor, it was the humid scent flowing every six hours from sticky coats of mud left after each tide by the tireless embrace between earth and water. It was the primitive and stagnant essence the lagoon spreads on its banks with the selfless generosity that belongs only to Nature. It is like the thick scent of an excited woman in love, it's sweet and sour at the same time.
I was breathing in again and I recognized it.
Now I understood the sincere sensation that I had experienced the very first time I had arrived here and immediately felt this place hidden deeply inside something already familiar that belonged to me. It was almost as if that water and that mud, so remote from the places where I was born and had lived, were in reality elements that had always been known to me, so much so that from then on I felt as if I was immersed, secure and at ease in an amniotic liquid.
I'm not crazy. The truth is that I fell madly in love one day with this part of the Georgian coast, with this humid and harsh land of perennially nomadic waters that at certain times disappear, but then always come back. And I was also in love with these sometimes little crazy people as well as with the always profoundly wise animals that live here. Since then the city of Savannah has become something intimate, an inseparable part of me, like a vital organ or my second skin.
After that first time I fell prisoner to that blind confusion that a human being can experience not only for another person, but also for a place, that I would return to as soon as I could. There was something inside of me that I cannot explain, but I would never investigate, something that even now I find hard to describe fully in words, something that kept telling me that I "had" to make that trip, a sort of a sentimental pilgrimage, at least once a year. And I have obeyed and often exceeded those annual orders.
I have done it regularly for years. At least every six months I've shouldered the boredom of the hours needed to fly over the Atlantic. But this has been done while passing time awaiting to return – always made even more agonizing by the nostalgic suffering from previous departures – that I have come to the point of no longer even feeling those long hours as they have been devoured by anxiety over each upcoming arrival.[subscribe2]