This is part 2 of the ugly truth behind the pretty lie behind the true but entirely fictional story of the nefarious yet delightful and somehow oddly musical collaboration that lead to the writing of Bad Book. You know, it takes a great deal of words to say a very long thing like that. You're welcome.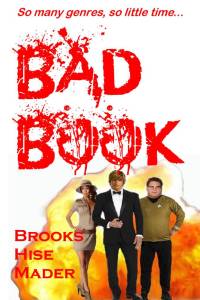 In this episode, Kat helps JD fight a mysterious rash that threatens the very fabric of the space-time continuum, and Stephen sends a message to JD about a looming deadline. Erica yields to Kyle's advances before learning he is actually the evil twin brother of her lost ex-husband's father in law, and Antrobus learns an important lesson about sharing. Some of those scenes may have been cut to make room for commercials.
DISCLAIMER: This product is intended to be dry-cleaned only.