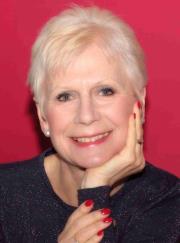 Susanne O'Leary is Swedish and married to an Irishman, whose job took them to many countries, so of course she is, enviably, widely travelled. She has used her experience and knowledge of the different countries she has visited to great advantage in her novels to diversify their settings and backdrop.
Her English is impeccable, and one would never know from her novels that English isn't her first language. Of her many books, I have read A Woman's Place and Sonja's Place; these are accounts of the lives of her Great-aunt Julia and her daughter (Sonja), taken from diaries Susanne found in her grandmother's belongings. The third of Susanne's books I have read is a contemporary romance, Finding Margo.
A Woman's Place is delightful – 'narrated' by Julia, then Sonja in the second half. I loved it because Julia and Sonja reminded me very much of characters in Jane Austen's novels, not only because Julia was a very independent, strong young lady in an era when women were only just beginning to discover that marriage wasn't the only route to standing and wealth, but also because there was something about Susanne's style that had a very Austenesque aura. Julia's life and thoughts are fascinating.
http://cnkbookreviews.blogspot.co.uk/2011/08/womans-place.html
Sonja's Place picks up Sonja's life in the years from the '20s to the '40s. Sonja has inherited her mother's joie de vivre, independence, and determination, and her story is equally captivating. There were, naturally, ups and downs in both Sonja's and Julia's lives – they lived in troubled times, but notwithstanding, Susanne deftly sprinkles a feel-good dust over their tales.
http://cnkbookreviews.blogspot.co.uk/2011/11/sonjas-place-by-susanne-oleary.html
Finding Margo is a very enjoyable story about a woman (Margo) who deserts her husband on a French motorway after an altercation about her not-so-good map-reading skills. His criticism is the last straw after years of verbal abuse. With nowhere to go and not knowing where to go, Margo embarks on a journey in which she discovers her own voice, freedom to make her own choices, and…'amour'.
http://cnkbookreviews.blogspot.co.uk/2012/04/finding-margo-by-susanne-oleary.html
Susanne has a very pleasing style – it's clean, it's crisp, it's positive. I can't wait to read the two other novels I have sitting on my Kindle.
Find out more about Susanne and her books at http://www.susanne-oleary.com/home.html
 *     *     *     *     *
Cathy Speight is an accomplished book reviewer and Chief Consulting Reviewer at Indies Unlimited. For more information, please see the IU Bio page and her blog.
[subscribe2]