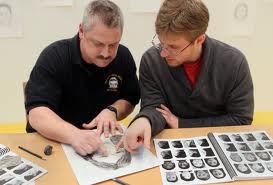 When I was teaching writing workshops for High School kids, there was one thing that always got that epiphany 'aHA!' moment that I liked so much. Description. Character description to be specific. We took it slow. I got my share of stories about guys with cornrows, blue jeans, baggy white T-shirts, and Air Force Ones. Gradually, I would start to share the writers' secrets. And one of the first ones was this: for the most part, describing your character is a waste of time. People will argue about this, so let me explain what I mean.
My kids liked adjectives. Black hair. Tall guy. Pretty woman. Someone please shoot me. There are two things at play here. One, unless you make them interesting, the reader is going to see your characters the way they see them no matter what. I have read whole novels where the protagonist refers to his black hair, but he's still blond to me. Doesn't matter. Two, the things that do matter are the things that are unique.
I'd usually start by asking all my students to describe me. They loved this of course. We were very close, so they weren't afraid to talk shit. It usually was something along the lines of  "bald ass old white dude who buys his clothes at the Salvation Army and rides a motorcycle". Fair enough. All those things were true. Then I would ask them how many people in San Francisco fit that description. Bingo.
Then I would ask them to describe their mothers or grandmothers. "Old, fat, brown hair." OK, those things were probably true. Then I told them to take out a new piece of paper. They had five minutes to describe their Mom or Grandma in such a way that I could find her in a crowded BART (Bay Area Rapid Transit) station at six PM on a Monday. And I had to find her quickly to warn her that someone was planning on killing her.
Now, we started getting somewhere. Suddenly these women had birthmarks on the sides of their necks. They had weaves. They walked with canes. They wore glasses…black, plastic-framed glasses. They walked with limps. They were wearing floral dresses. You get the idea.
New piece of paper. Describe me again. "White dude. Around 30. A little over six feet tall. Wearing a blue shirt with white pearl buttons – sleeves rolled up. Head shaved.  Two tattoos on his right arm – a red K and some circle shit. Dean tattooed on his other arm. Big guy. Yoked but a little fat. Not fat fat. Brown eyes with purple circles under them. Red Dickies. Big ass black boots. Keys hanging off his belt. Chain around his right wrist. Lots of scars on his arms. Looks pissed all the time – he's not – but he never smiles. Not a regular-ass white dude, either. Like one of those white dudes who you know don't own no nice car." Lots of laughing. This was always fun. And I'd reciprocate. We'd all describe each other. Big old goofy, Dumbo ears.  Fake-ass looking, wannabe mustache. You get the idea.
Then we would talk. And then we would write. And suddenly the characters blossomed in my mind as I read. They weren't formless, generic things that my mind glazed over. Because, as we learned, it is what makes us different that makes us interesting. This applies to psychology, but we won't get into that right now. If you want me to see your character, a pegleg is a lot more helpful than "grey hair".  Four teeth missing and a broken nose is much more vivid than "tall".
We had lots of fun days in the writing workshop, but this was always one of my favorites, because flipping that one little switch makes writing come alive. Tell your reader the important things – character markers that resonate – let them fill in the rest. Is it more important that I know she is exactly 5'7" or that she has one blue eye and one grey eye.  Salinger gave Holden gray hairs for a reason.
How would you describe someone who mugged you to the cops? That's a good way of thinking about it, too. They need to know what separates your jerk from all the other jerks.
Human beings have a lot of things in common. It is what we don't have in common that makes us unique and interesting. And that is the approach you should take when you write. Honestly, I don't care to know the exact bodily dimensions of your character. My mind is going to change them anyway. But you do need to distinguish your characters…and the way you do that, visually, is by showing me the weird shit. If I wanted you to find my mom in a crowded bus station and I said, "look for the old lady with brown hair," it would take you hours. "Look for the older lady with short brown hair, a little gray in the front, wearing white sneakers, black jeans and an old red and white striped t-shirt. She wears frameless glasses and she is very thin and she is wearing a black fanny pack on the front." Now go find her.
Now, those weren't particularly interesting details (sorry Mom – you could have pink hair), but they are specific. Now, you get specific and you find those unique quirks, ticks, twitches, lip curls, nervous hand gestures, swaggers, scars, and eyepatches…then we've got some character markers your reader might pay attention to.
The same thing applies to psychological characterization, but it is more fun. Tune in on Thursday.  Same IU place, Same IU channel.