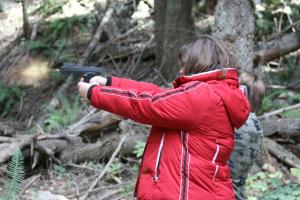 I'm not going to beat a dead horse. I'm going to Riverdance on that carcass. That's right. Because I don't bang my own head against a wall anymore. Shooting things is far more rewarding. And productive. And fun.
There's been a lot of complaining going around lately. Some of it's good, some of it's annoying. This past Friday, my buddy Ed McNally wrote a brilliant post. If you missed it, read it here. Ed pointed out how much negative energy was being spent complaining instead of banding together and working towards a common goal. So I shall now add my two cents to the compendium.
One of the great things about being an Indie Author is it's sort of like being in a club. I've virtually "met" helpful, smart people…authors who take the time to give advice, to share links, and to promote their peers. People like Stephen Hise – the evil mastermind and Founder of Indies Unlimited. That dude spends all day long supporting authors – selflessly giving his time and energy and asking nothing in return. People like Hise make me proud to be an Indie.
Unfortunately, for every Hise out there, there are about 1000 people I'd like to toss into the Amazon River during piranha mating season. These are the people who cast the cloud of unprofessionalism over the Indie community. And here are some of the things they do, in no particular order.
Please don't just post the link to your book on my Facebook page in your self-promotion "blitz". Honestly, it is a blitz, short for the German word Blitzkrieg, which means "violent and surprise offensive." How's that for a hint? Posting your link on ANYONE'S page without permission is offensive. Believe me, if slapping a book link up on my Facebook page actually yielded results, I'd have sold a lot of books. In fact, let's do the math: 825 Facebook friends x 9 published books = 7425 books sold. Since I'm not driving my new Saab convertible, you can pretty much assume blitzing my FB page does NOT accomplish anything, unless you're trying to piss me off. In that case, congratulations, it worked.
I belong to a lot of Facebook Author Groups. I try to visit them at least once a day whether I'm posting links to helpful articles or not. I stay in the group a while, and I look around. Know what I see? Nothing but promotions. There are only a few other people who share information which might actually shed some light on new technologies or methods for achieving sales success. Those are the people I'd like to know better. So, does banging other authors over their heads with our books really accomplish anything? Hmmm…I may be having déjà vu.
And it's the same on Twitter. I've followed back everyone who followed me, and now I'm inundated with their self-promotional tweets with the same review quotes and links to their books auto-tweeted on an hourly basis. I can't even find the stuff that's tweeted by the people who are NOT doing promotion. I'm so turned off to Twitter right now that I don't even go there. I guess that worked out well for everyone, didn't it?
I'm always right there when someone asks "How can I promote my book?" Well, if you're reading this, first of all, you're obviously smart and have good taste. Thank you for stopping by Indies Unlimited. Nice shirt, too. Most likely, this post is not directed at you because you're a proactive go-getter. Honestly, that's what we're here for – helping authors promote their books – and helping readers connect with books which interest them. So when someone asks the same question once a week and doesn't take advantage of the myriad opportunities presented to them – I have to ask myself if they really want to achieve anything beyond sympathy…or attention.
The same goes for those people who ask for input but don't really want it about their book covers, rough draft stories, etc. – they-all can knock that off as well. It's just a huge time-suck which is unfair to the people who are actually trying to help.
I could go on, but I won't. Well, maybe I will. No, just kidding, because as Ed said I have better ways to spend my energy. And so does everyone else.
The number of truly amazing people I've met through Indies Unlimited, and also through Book Junkies, is staggering. They're not the majority, as I mentioned, but they're the ones truly worth searching through the haystack for. They know who they are. These are the people I want to hang out with. I'm proud to be in the same club with them.
*     *     *     *     *
K.S. Brooks is an award-winning novelist and photographer, author of nine books, and Co-Administrator of Indies Unlimited. For more information, please see the IU Bio page and her web site: http://www.ksbrooks.com/[subscribe2]