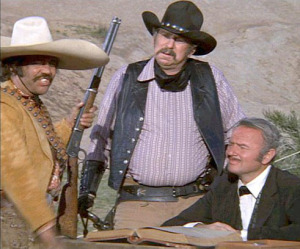 As the indie movement continues to rattle the Goliaths of the publishing world (have you heard that Houghton Mifflin filed for bankruptcy protection?), many authors can find themselves on shaky ground.
Just a quick trip around the Kindle forums—if you dare—will tell most of the story. Readers are ticked off. They don't want to pay twenty bucks for an e-book. (Heck, I don't either, and it will be interesting to see how many people snag J.K. Rowling's new novel at $19.99.) But spend less than four bucks on an unknown? They've been burned before. They've been bombarded with cheap books, some rampant with typos, grammatical errors, formatting problems, plot problems, and writing that reads like a first draft. Some readers gleefully tell their forum peers that they will NEVER purchase another indie book. On the other side of cyberstreet, at B&N.com, self-published books are locked into the "PubIt!" section, neatly severed from Big Guy Books. Forum haunters write that they are glad for this line of demarcation because, as one reader wrote, "I know to stay away from it."
Sigh.
An interesting process is afoot. Traditional publishing means impressing the gatekeepers. I railed plenty about them when I was trying to go this route with my earlier novels. Sour grapes? Maybe a little; I was inexperienced. But like it or not, good or bad, having a certain indicia on your spine used to mean something. It gave you the literary equivalent of the Good Housekeeping Seal of Approval. While you might not count a particular author's newest work among your favorites, at least you felt confident that the writing was soundly edited and well presented. Sure, those standards have been falling over the last ten or fifteen years, as budgets shrink and editors are let go. There's no guarantee that a "Big Six" book will have any fewer errors or plot flaws than a selection from the PubIt! department.
But to many readers, the old perceptions stick.
There's been some backroom rumbling about how IndieLand authors might claim their own vetted glory, or if we even need to. I can see both arguments. The very essence of the indie movement is gatekeepers be damned, we're here and we're…publishing our blippin' books, and none of you suits can stop us.
The other is a concern for reader perception. If my work is not available at the local bookstore, if no one has ever heard of me, if it the story doesn't fit into the tidy boundaries of the genres people love to read, if someone just got burned by purchasing an unknown promising to be the next Stephen King or Nora Roberts that turned out to be anything but, then why will they spend their hard-earned latte money on me?
Here lies a problem and an opportunity. As often happens in shaky times, entrepreneurs step forward and offer a solution. Some are ethical; some are flea-bitten Nerf herders. Many hope to prey upon your insecurity and your dream of becoming a bestselling (or at least decently-selling) author. Sometimes it's too early to tell. Recently another writer told me about Grub Street Reads. The company was started by two indie authors, Jessica Bennett and Leslie Ramey, who want to crush the remaining stigma of self-publication and "keep quality books from being drowned out." So they offer—for a small fee, calculated by word count—an evaluation by their QC-controlled, trained staff. Pass and you'll get an endorsement. [In the interest of full disclosure, I submitted one of my books during a free promotional period, and I'm waiting for their reply, which they say could take up to five weeks.] Grub Street Reads operates an online bookstore of "endorsed" indie books, to which you will be added if you are approved. So GSR sees themselves as performing a service for authors and readers, but they're not doing it solely out of the goodness of their hearts. Check it out and make up your own mind.
Perhaps another solution to this image problem might be in a governing board, a body of independent editors or reviewers. Or, frustrated with returns and customer complaints, it might be the Almighty Amazon itself. But every solution has its problems. Every organized vetting machine can smack of the very gatekeeper-type elitism that we publish our own books to avoid.
One thing I can say for sure is that it's an interesting time to be an indie writer.
What do you think? Would you submit your book to an outfit like Grub Street Reads? Do indies even need gatekeepers? Will a good product conquer all? Or do we need those stinkin' badges?
*     *     *     *     *
Laurie Boris is a Contributing Author for Indies Unlimited and award-winning author of THE JOKE'S ON ME and DRAWING BREATH. For more information, please see the IU Bio page and her website: http://laurieboris.com.