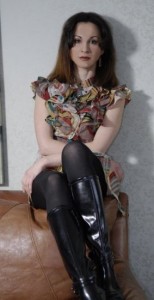 [This is a golden oldie—it ran on Indies Unlimited back in October 2011.]
Meet award-winning historical essayist, multilingual arts & entertainment journalist, novelist, dramatist and poet, Marina Julia Neary.  She also serves as an editorial reviewer and steady contributor for Bewildering Stories magazine.
Marina has a passion for telling untold stories and for "illuminating the dark side of the moon." She incorporates real historical figures into her narratives and works to give them psychological dimension.
"For instance, in one of my novels, Wynfield's War (a sequel to Wynfield's Kingdom, both published by Fireship Press), I show a dark, almost demonic side of Florence Nightingale, who is regarded as a saint by the medical community. Within each saint there is a demon – and vice-versa," she says.
When writing her books, she envisions the storyline, but writes  various scenes and then assembles them into one big mosaic, rather than approaching them in a sequential order.
She finds her inspiration in the past, ". . . in the smell of obscure rare books that have been out of print for decades. That's the 'indie' side of me, I suppose. I usually don't read bestsellers and don't watch blockbusters. I like to dig up lost treasures." Continue reading "Meet the Author – M. J. Neary"