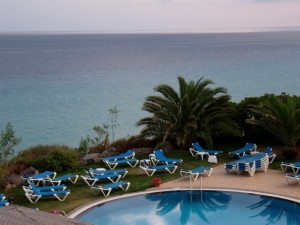 I go to an office five days a week in exchange for a regular paycheck and a limited amount of vacation time. Most of my vacations are spent with family and friends, but occasionally I take a few days just for myself, for that coveted stretch of uninterrupted writing time. This is hard to explain to a colleague. The conversation usually goes something like this:
"What are you going to do on vacation?"
"I plan to write."
Pregnant pause.
"Yeah, but what are you going to do for fun?"
It's at this point that I realize I shouldn't tell more of the truth. So I'll answer with a vague, "Oh, take long walks and hang by the pool–you know, relax." Then my colleagues can sigh with relief that I am normal after all. They never have to know that what I'm really going to do is pretend that I quit my job to be a full-time novelist because I have a huge and devoted fan base clamoring for my next title.
My vacation will start with a schedule of goals for the period. I will get up early every morning and write all day, only taking breaks to swim or go for a walk to keep the creativity flowing. If the cats want too much attention, I'll shut them in the bedroom and tell Spunk that I'm sorry I can't play with the mouse right now; I have a deadline. I'll write outside on the deck in the middle of the afternoon and feel the sun while it's still high in the sky. I'll have time scheduled to research physics or theology or the great pigeon race of 1997–whatever it is that my characters insist on knowing more than I do. I'll plan to write and edit a certain number of scenes with time built in for some requisite marketing and to answer my imaginary influx of fan mail and twitters. My schedule will be relentless, except for one night when I'll get all dressed up and pretend that I'm going to the National Book Awards.
That night I'll probably go out for real, since I went through the effort of showering and all. But I'll also probably leave early to get home to work on an idea. I'll spend an entire afternoon cutting out most of what I wrote that morning and want to defenestrate the manuscript, but I will persist according to plan. I'll rearrange and rewrite and work rather than sleep. At some point, I'll think up a fantastic new project, but I will drive myself to finish what I started.
The night before I go back to the office, as I'm ironing my business casuals, I'll remember that indie books aren't eligible for the National Book Awards. As I'm packing my lunch, I'll yawn and stretch the cramps in my hands and it will occur to me that I haven't spoken out loud to another human in days. Before I go to bed, I'll check my sales numbers and realize if I actually quit my day job, I'd have to live in a cardboard box with little prospect of breakfast let alone a daily swim. Then as I drift to sleep, I'll think that being a full-time novelist is a nice dream, and it's fun to pretend, but reality is hard and I'm lucky to have a day job with a regular paycheck. For now.
*      *      *      *      *
Krista Tibbs is a Contributing Author for Indies Unlimited and author of the novel, THE NEUROLOGY OF ANGELS, and a new illustrated collection of short stories, REFLECTIONS AND TAILS. Learn more about Krista from her blog, and her Amazon author page.