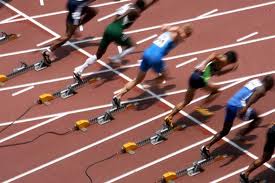 Well, my post is due in less than an hour (forgot; it was 100 degrees today…I forgot to breathe for a little while, too). Let's see if I can play this off. This is something I do a lot, something that I recommend for all fiction writers. Flash fiction is fun, and challenging yourself keeps you sharp. So, I will give myself five minutes. Go.
The smell of hay settled on them like the dust motes in the sunbeam – lazily, as if it had all day. And it did. They knew as they lay still that nothing needed to be done. Sure, there were chores that could be done, but they were well aware of the delicious difference.
It had been a long summer. Heat came in waves over the fields. Not much rain. The grownups were nervous, but they were too young to worry about the future. The adults worried. They kept the worry in the front of their minds where they could knead at it like bread dough.
Faith. That was what it came down to. No sense worrying too much…the good lord will do as he sees fit. That was what Gram said and it had been repeated often. A refrain for deaths and disease and trucks that plum ran out of fight.
It wasn't easy. Wasn't supposed to be. Easy was for the kids. Let them enjoy the time while it was simple and life was strung together with fishing and catching fireflies. When the peach cobbler always tasted like the best Gram had ever made.
Pops wasn't worried about anything. There was a ball of disease inside him. No one knew about it. And he would not tell. It would be one more slow, grinding surprise. One more test of their faith. For some of them, the final time they would ever say the word.
The dinner bell had been ringing for several minutes when they roused themselves, two thin, tan kids with summer thick in their brains and the future laid out before them, coming, whether they could see it or not.
OK, that was exactly five minutes. No editing to speak of – there is a lot I would change, but this is an exercise and this one probably won't live past this post. It was hot today so that was an obvious place to start. My mind then took me to a collection of memories I have of hot Southern Illinois summers I spent with my Grandma and Grandpa. None of it is 'true' – the feelings are true I guess, but not the story. 
So, that's my cop-out post. But seriously, this is something I do a lot. Sometimes they turn out better than others. This one is nothing special, but it's like a high intensity workout. Five minutes. No edits. Like a boxer skipping rope. The end result is not as important as the doing of the thing.
*     *     *     *     *
JD Mader is a Contributing Author for Indies Unlimited and author of the novels JOE CAFÉ and THE BIKER – and co-author of the mighty Bad Book. For more information, please see the IU Bio page and his blog: www.jdmader.com (and musical nonsense here: JD Mader). Mader's edgier works can be found at www.blergpop.com.